Wake up in Palm Springs with the sun gloriously shining and grab your glamorous floppy hat, recyclable water bottle, and sunglasses. It doesn't matter if the museums are closed because there's so much fabulous public art to explore in Palm Springs.
Start your walking tour in the Uptown Design District on North Palm Canyon.
First Stop – Palm Springs Desert Art Center
The center for Palm Springs creative arts is the Desert Art Center at 550 N Palm Canyon Dr, Palm Springs, CA 92262. Often overlooked, this grand building is the home for numerous art classes, exhibits, and theatre performances. One of our city's latest art installations is on the Desert Center's palatial grass-covered lawn.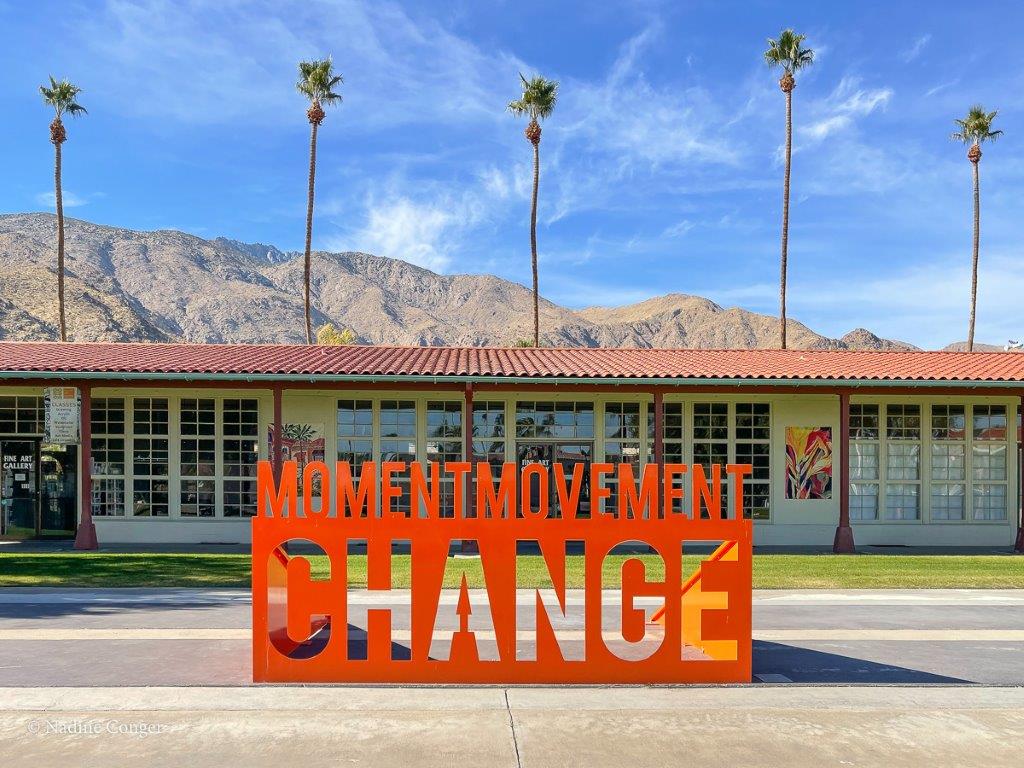 MIDABI is an artist and philosopher focused on large-scale public art using text in sculptures and murals. Residing in Palm Springs since 1998, with family roots going back to the 1950s, MIDABI continues a family tradition of contributing artistically to the desert.
Large, bold, and thought-provoking, MIDABI creates works of art that seek to inspire and challenge the viewer to think for themselves and see reality differently. One may feel shaken, for emotional core values may be questioned.
Since you have your walking shoes on, head on down Palm Canyon; along the way, you will see colorful benches to rest upon, which our local artists created.
Second Stop – Koffi North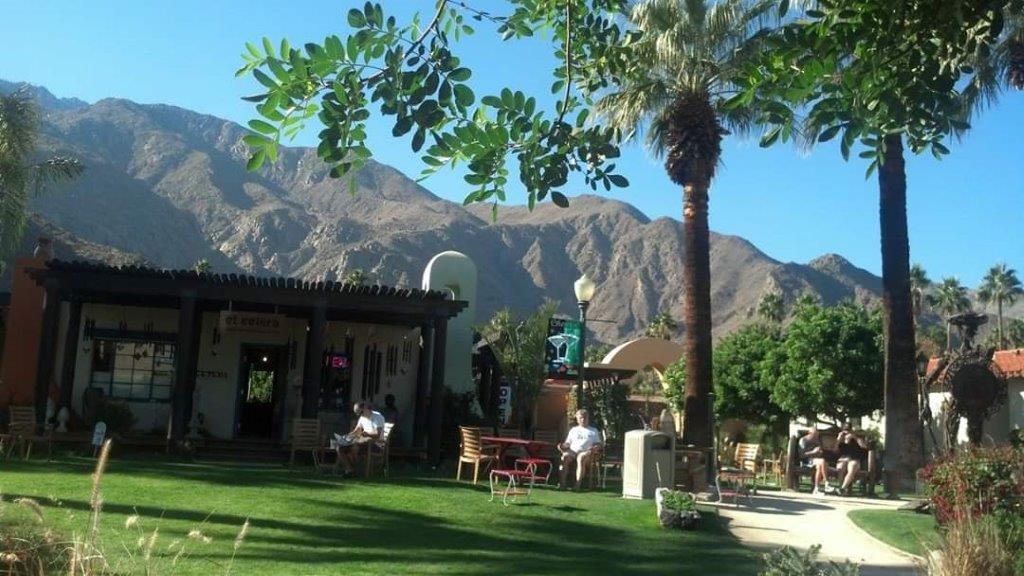 If you want to have a cup of coffee, you might want to stop at Koffi North. Be sure to go straight through the store to the back and see the courtyard. The locals hang out here during non-Covid times.
Third Stop – Near the Palm Springs Art Museum
Now that your energy is restored, head down to Museum Way and turn right.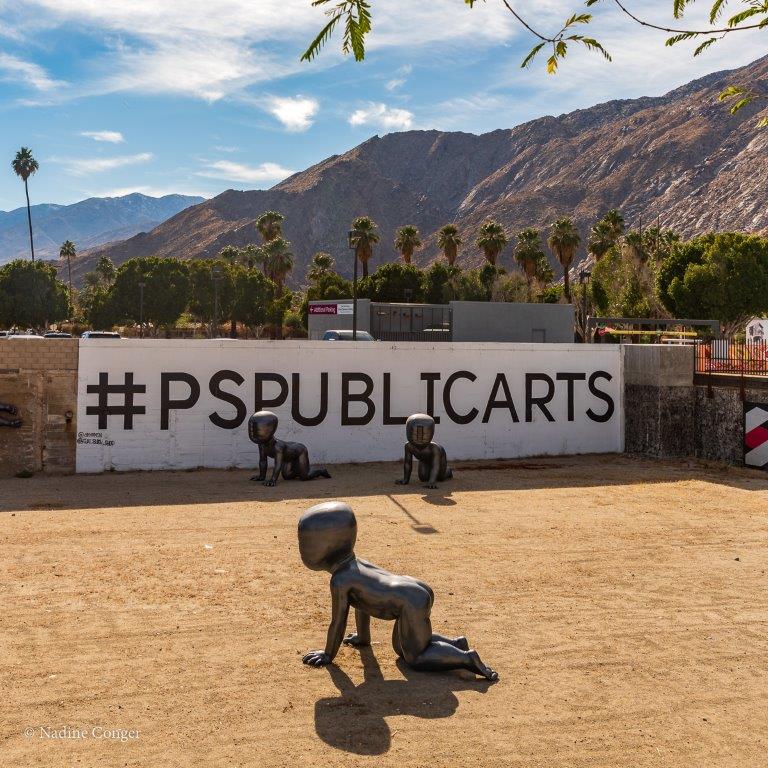 Before you get to the Palm Springs Art Museum and located in what we locals call the "Sand Pit," (and future home of an underground parking lot) are ten sculptures, 11 ft long X 9-foot fiberglass babies. A barcode replaces any semblance of a face.
Czech artist David Cerny has loaned this art installation to Palm Springs through 2022. He wanted to make a statement about the dehumanization of society due to big tech and data. We are betting you will have an opinion.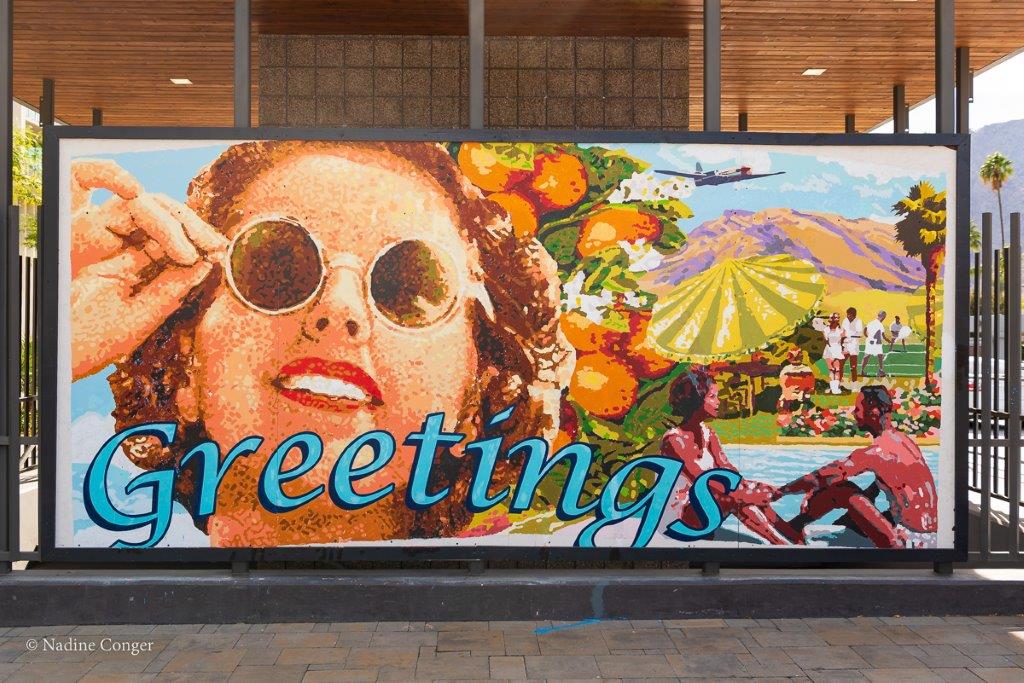 Check out the wall on your left as you overlook the Sand Pit. You'll spot a mural by Santa Monica artist, Peter Tigler, who worked with attendees of all ages to create this 7-foot-tall-by15-wide mural at the Annual La Quinta Arts Festival in 2019. Look closely; it was created by finger painting. The bright colors and numerous scenes invoke the sense of "Wish you were here." It's a great place to take a selfie to post your social media.
Fourth Stop – Graffiti Park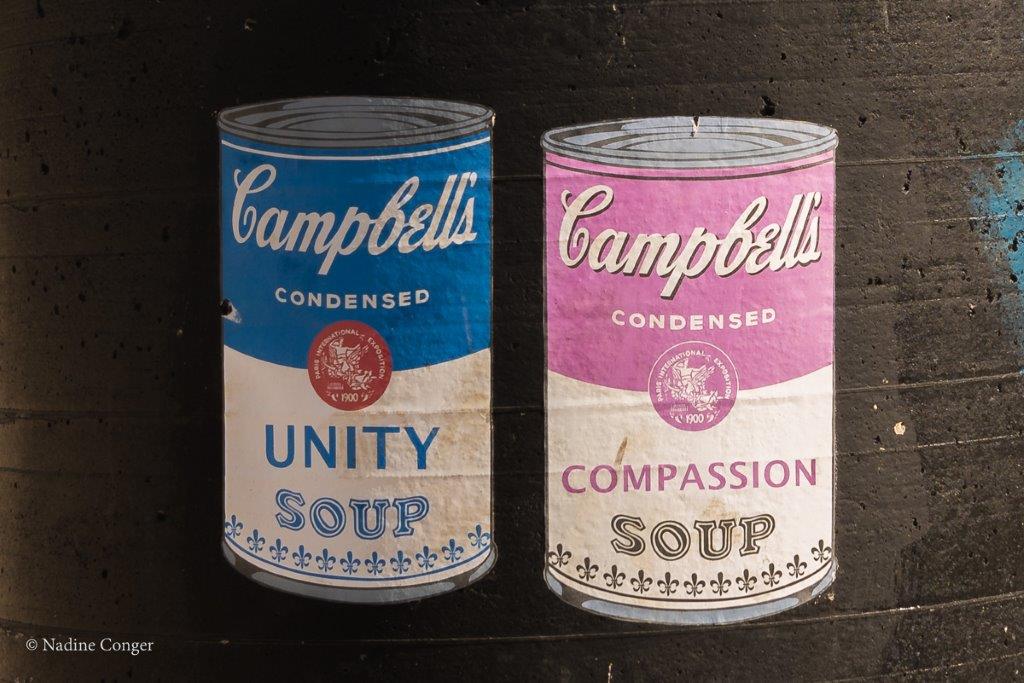 Across the street from the Sand Pit is our Graffiti Park. While waiting for the area to be developed, artists are encouraged to express themselves through their art. The various cement pillars and stones, remnants of past construction, serve as canvases. The art is constantly changing, so be sure to come back and see it on your next visit.
Fifth Stop – Right Side of Palm Springs Art Museum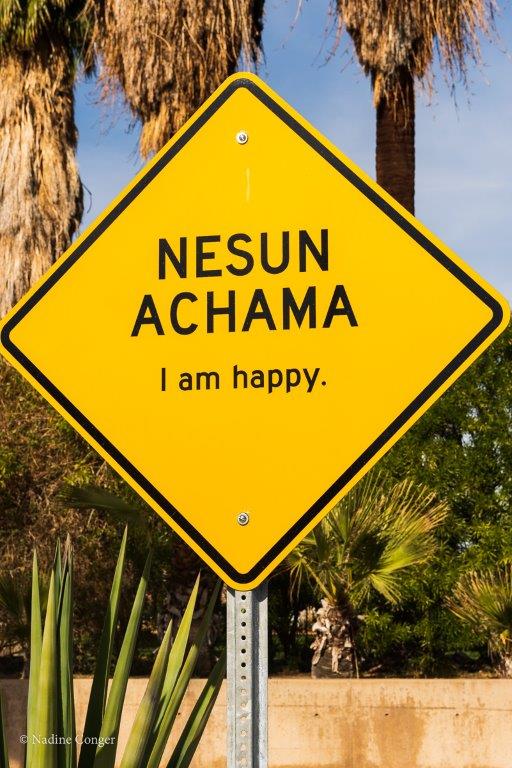 The Palm Springs Art Museum is closed, but the parking lot holds a surprise. Check out the Road Signs scattered throughout the premises. They were created by artist Gerald Clark, who identifies himself first as an artist; and secondly, a Cahuilla Indian.
These Road Signs were created for an exhibit of his work in the Palm Springs Art Museum a couple of years ago. Walk to the museum's right side first, then see the rest of them on the museum's left side.
Sixth Stop – Left Side of the Palm Springs Art Museum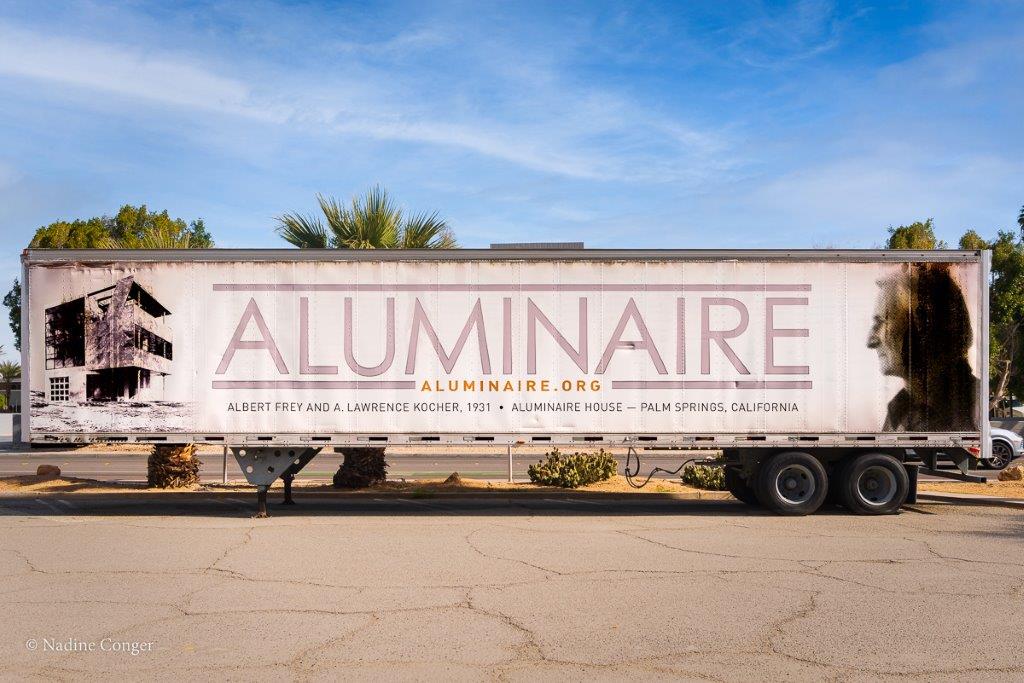 After you have pursued both sides of the museum, you will see a large semi-truck parked in the parking lot. In the semi is a three-story all-metal house, called the Aluminare House, designed by Albert Frey and A. Lawrence Kocher. The house was donated to the Palm Springs Art Museum for its permanent collection and will be reassembled in 2021. It is considered to be one of the most outstanding examples of Modernist architecture in the world.
We hope you have enjoyed this tour of some of our public art. There are many more installations–both inside and outside–scattered throughout the city. However, we wanted to give you a small taste of the many treasures that await your visit to Palm Springs.
https://www.palmspringspreferredsmallhotels.com/wp-content/uploads/2021/02/Art-Installation-at-Desert-Art-Center.jpg
768
1024
Kathy Condon
https://www.palmspringspreferredsmallhotels.com/wp-content/uploads/2019/09/PSPSH-Logo-Rev-300x246.png
Kathy Condon
2021-02-05 14:59:26
2021-02-05 14:59:26
Viewing Public Art in Palm Springs on Foot