Happy Fall, Ya'll: October Events

Holy Ned, October is jamming! We've got Modernism Week Preview plus Palm Springs Leather Pride. If neither of those float your boat, there's HALLOWEEN! It's a huge holiday here in Palm Springs, and Halloween on Arenas is sick (in the best way possible). Costumes are off the charts creative, and the whole town is one big party.  
And now that it's cooling down, all of our venues are heating way up. Keep in mind many indoor events require a vaccination card and a mask. Hey, the world is a bit of a horror show these days, but Palm Springs knows how to be safe and party. 
So now, without further ado, say hello to October events:  
Jazzville Shows at Agua Caliente Casino Cascade Lounge  
MFUO Featuring Jacques Lesure — Thursday, October 7, 7 p.m. 
Rumproller Organ Trio at Jazzville Palm Springs — Thursday, October 14, 7 p.m. 
Dan Delgado Sextet — Thursday, October 21, 7 p.m. 
Agua Caliente Casino Caliente Comedy 
Craig Conant  — Friday, October 1, 8 p.m. 
Pablo Francisco Comedy — Friday, October 8, 8 p.m. 
Brian Scolaro — Friday, October 15, 8 p.m. 
Tom Arnold — Friday, October 29, 8 p.m. 
Lalo Guerrero Tribute Show — Thursday, October 28, 7 p.m. 
Cultural Center – Camelot Theatres 
Drag O Rama featuring Rosemary Galore
Sunday, October 3, 2:30 p.m. (repeating Sundays)
Tickets starting at $15
REPO! The Genetic Opera — special screening of the cult horror film
Thursday, October 7, 6 p.m. social hour, event at 7 p.m. 
Chip 'N' Dru: Our Favorite Sings
Saturday, October 9, 6 p.m.

Multi-talented singer Dru Rutledge and veteran Broadway pianist Chip Prince present Our Favorite Sings. Featuring a multi-genre selection of songs in the style of Rodgers and Hammerstein, Debussy, Puccini, Stephen Sondheim, Leonard Bernstein, Broadway, Opera, Top 40 chart toppers, and more!  
Martinis and Moxie: A Society Social
Friday, October 15, 6 p.m.

A "My Way" society revue celebrating the life and music of Frank Sinatra.  
2021 Arthur Lyons Film Noir Festival
Thursday, October 21, 7:30 p.m.
Founded in 2000 by the late mystery author and Palm Springs community leader Arthur Lyons, the popular Film Noir Festival includes an eclectic mixture of prestigious and obscure black and white B movies from the classic film noir period. The festival is known for unearthing and screening rare films, restored classics, and for the special appearances of the stars who were in them.  
Tuesdays: Rose Mallett 
Wednesdays: Michael Holmes and Darci Daniels 
Thursdays: Sharon Sills 
Fridays and Saturdays: Ticketed events 
Sundays: The Judy Show   
That's Amore, an Italian feast set to music.
Saturday, October 2, 7 p.m. 
Gospel Brunch featuring great music and Keisha D.
Sunday, October 3, 11 a.m. 
Ovation! A Jazzed Up Sunday Brunch
Sunday, October 10, 11 a.m. 
Death by Cheese, a ghoulishly cheesy Sunday brunch.
Sunday, October 24, 11 a.m.  
420 Bank Dispensary and Lounge 
Cheech Meet & Greet
Friday, October 1, 3 p.m. 
Kottonmouth Kings with DLOC
Saturday, October 23, 9 p.m. 
Rabbit Country
Friday, October 15, 6 p.m. 
Open Mic Night
Thursdays — October 7, 14, 21 
Saturdays: Mimosa Men (Brunch) 
Sundays: Bitchiest Brunch 
Sundays: World Famous T-Dance  
Edie Las Vegas Showgirls: Unleashed (ticketed event) — Saturday, October 2, 7 to 9 p.m. 
Sandra Bernhardt — Monday, October 4 and Tuesday, October 5
Remembering The Golden Girls — Wednesday, October 6
An Evening With Cameron Ross — Thursday, October 14
Melissa Manchester outdoor concert — Thursday, October 21 and Friday, October 22
Theater 
Desert Rose Playhouse Presents Xanadu 
Thursday to Sunday, through October 17 
(Note: So far their season has been spectacular!)  
Sordid Lives — Through October 3 
Shrek The Musical — Beginning October 22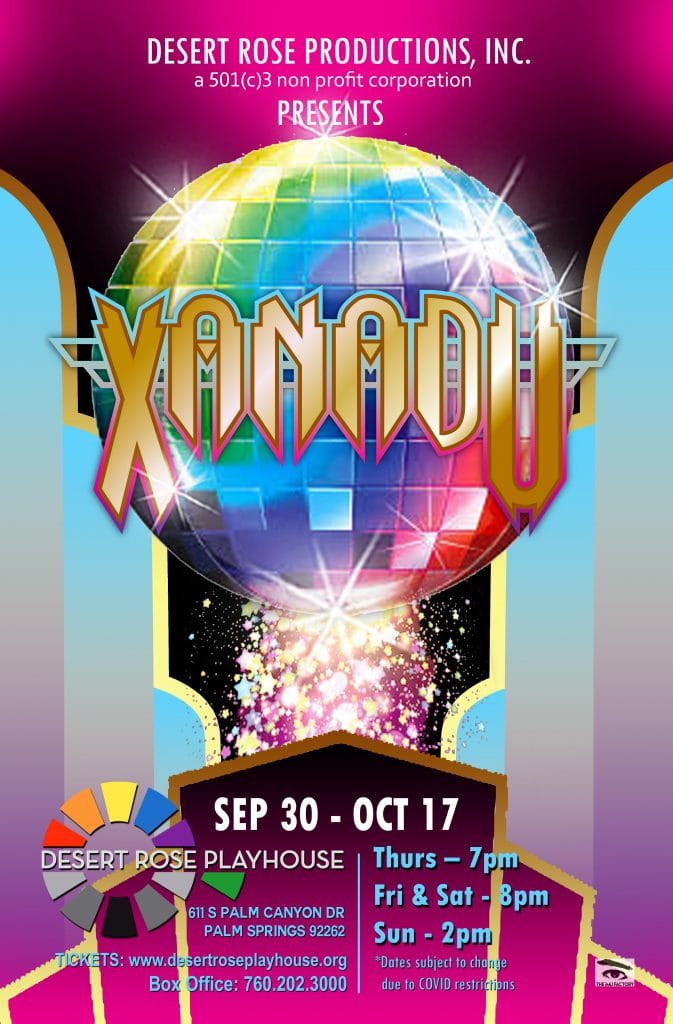 More options 
Wind and Wine Paint Party
Saturday, October 16, 11 a.m.
Palm Springs Windmill Tours
Wine glass painting class and Windmill Tour  
Paint Splatter at Superbloom Studios
Thursday, October 14, 6 p.m.
Starts at $150.00  
The Gem Show at Palm Springs Convention Center 
October 21 through 24   
Modernism Fall Preview
October 14 through 17 
Halloween 
Palm Springs Cultural Center 
Jazzville Creepy Cocktail Party
Sunday, October 31, 3 p.m. 
Cinema Bizarro: Best of Retro Cartoon Halloween Specials
Sunday, October 31, 1 p.m.  
Jazzville Presents The Jazz Cartel Halloween Special
Sunday, October 31, 5 p.m. 
Hocus Pocus hosted by the Sanderson Sisters
Sunday, October 31, 5 p.m.

A screening of Hocus Pocus with special guests the Sanderson Sisters. Kids receive a (kinda) real magic wand from the spooky woods of Salem.  
Zombie Burlesque Cocktail Party
Sunday, October 31, 6 p.m.  
The Three Michaels playing the Halloween score live, plus private party
Sunday, October 31, 8 p.m. 

An ode to John Carpenter's Halloween with the musical score, scares, and skits performed live in front of an abbreviated version of the film projected on the big screen. 
Dirty Little Secrets Presents Shock Theater Spooktacular
Sunday, October 31 8 p.m.

California's longest running burlesque and variety show. From zombies to fire performers, this eclectic shock theater of sensational striptease will keep you laughing and howling all night! 
PS Underground 
BITE – a bloody vampire dinner
October 26, 27, 28, 31, 7 p.m. 
Halloween on Arenas Road – The Queen Of All Halloween Parties
The party starts at 4 p.m. and goes until 11 p.m.. Take an Uber/Lyft, parking will suck, and you'll likely get pretty boozy. There's too much to talk about, so I'm just sending you to the link. Prizes up to $1,800! 
For Gay Men Only

The Dirty Show with Skyler Gentry
Wednesday, October 6, 7 p.m.

$25 includes complimentary booze, snacks, pre-show and post-show party after every performance. The venue is outdoors with spaced seating. 
Hot Uncle at the Barracks
Saturday, October 16, 9 p.m.   
Palm Springs Leather Pride 2021: Unlocked: Full Release
Begins October 26 and runs through October 31. Multiple venues, starting at Eagle 501 bar.  SO MANY EVENTS! Event packages (too easy) here. Need some leather? Try Gear and Rough Trade Gear. 
That'll do it for October. Don't forget to shop and stay local. See you in November!  
https://www.palmspringspreferredsmallhotels.com/wp-content/uploads/2021/10/PalmTrees.jpg
1535
2048
Kay Kudukis
https://www.palmspringspreferredsmallhotels.com/wp-content/uploads/2019/09/PSPSH-Logo-Rev-300x246.png
Kay Kudukis
2021-10-06 14:44:18
2021-10-07 10:44:11
Happy Fall, Ya'll: October Events