Let's Get 2023 Started: January Events In Palm Springs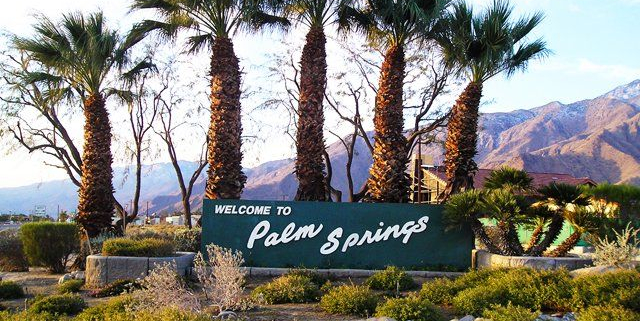 I hope you all made it through 2022 as unscathed as possible. No matter the reason, you absolutely deserve a getaway vacation to Palm Springs. The late night temps are in the low 50s, while it's in the mid-70s by noon and the sun is warm on your skin. Perfect tanning weather, and a heated pool will bring all of the aaahhhs.
Whether you want to keep the party going, or you're looking to unwind from party season, Palm Springs is a cure. Have a look at our boutique resorts to find your particular jam. There are A LOT to choose from, each one unique in its own way — on the Palm Springs Preferred Small Hotels website, you can use a filter to narrow down the choices. I'd do it for you, but you didn't tell me what you were looking for, so I'm stumped. It's pretty easy to navigate, so unless you're a single cell organism, you'll do fine.
The biggest thing going on this month is the Palm Springs International Film Festival, and I'm going to tell you about that in a different post, but you should get tickets yesterday if you want to attend. Other than that, we've got a lot of the usual suspects, a few one-offs, and a brand new nightclub. I'll do a post about my favorite restaurants before Valentine's Day so you can make a plan. But first, January 2023. Ready? Let's go.
One and done
Jan 1: Vintage Market at the Palm Springs Cultural Center — First hour is $10 to get in (first pick!), $5 after 9 a.m. Vendors from all over the country.
Jan. 4: Leslie Jordan: Gone Too Soon. At Quadz Palm Springs, 6:30 to 8 p.m.
Jan 5-16: Palm Springs International Film Festival — Cruise the website yourself, or you can read about it here.
Jan 19-22: Palm Springs Winter Break — Line dance party.
Recurring tours
Historical Society Walking Tours — 14 different tour options, all spectacular.
Architectural Bike Tours — Your guide, Brennan, is all about mid-century modern. He is also a bus tour guide during Modernism Week. Many of our resorts have bikes available, so snag one for a few hours and book the tour.
Desert Tasty Tours — Get a taste of downtown Palm Springs with this fun walking tour. You get some great history, some adult beverages, and some delicious food from our locally owned spots. It's a great mid-day adventure. Get $5 off when purchasing your tickets by using promo code "PSPHotel."
MOGO Silent Disco — Get your boogie on with this dance tour. To be clear, you are the dancer. Curated music is pumped through your headset as you disco down Palm Canyon Boulevard. You won't look weird — you'll bring friends and make new ones. Use code "pspsh10" at checkout for a 10 percent discount for our readers!
Clubs with entertainment
Caliente Comedy at the Cascade Lounge on Fridays
Jazzville at the Cascade Lounge on Thursdays
The Purple Room — Rat Pack styled club with top notch entertainment from all over the country.
PS Underground — If you've read this blog before, you know I love this experience. Everything is spectacular, from the venue to the entertainment and the food. One of the most creative and fun events you will ever witness. Everyone becomes BFFs forever, including your hosts and creative team, Michael and Chef Dave.
Oscar's — There's a lot going on here, so peep the calendar. If you're gay (or wanna hang with your gays), the T Dance is the best recurring party in town. If you're straight, stay away from the bathrooms.
PS Air — One-of-a-kind "speakeasy" masquerading as an airplane; it may even have a cockpit, I'm not sure (I mean, it is Palm Springs). But there is in-flight entertainment, and often a naughty stewardess.
Toucan's — A drag queen institution and dance club on the north end of town near the very popular Boozehounds.
Come On Up — Palm Springs Cultural Center (formerly known as — or concurrently, I'm unclear — the Camelot Theater) is stepping it up. They still show movies, and there are two theater companies during season (which is now), as well as Come On Up, featuring recurring musical acts on different weekdays. There's a lot of parking, so you can bring a crowd.
Nightclubs
Reforma (brand new) — Right next to BevMo. It just opened, and I mean just, like yesterday.
Pretty Faces (fairly new) — I haven't checked it out yet. LMK if you go.
Theater
Jan 20-29: Palm Canyon Theater: Palm Springs Getaway
Jan 13-22: Dezart Performs: A Bright New Boise
Jan 17-29: CVRep: Dirty Blonde
Jan 27-29: Desert Ensemble Theater: Kill the Editor
There's a new theater company in town, The Bent. I'm not sure if they're doing anything in January yet, but peek their website. There are rumors that their very popular show, The Lincoln Debate, will be back in February. For those of you not in the know, Lincoln shared a single bed with another man for four years. The show uses that information as a jumping off point.
If you're new to PS and you are a gay man looking for the action, you're looking for East Arenas Road (fun article), two blocks of gay Shangri-La. Pair that with a men's clothing optional boutique resort, and you've reached nirvana.
Okay, that's it for January. Hope to see you around town enjoying our delicious weather. And as always, please shop and stay local, have a blast, and I'll see you next month.
https://www.palmspringspreferredsmallhotels.com/wp-content/uploads/2020/09/Palm-Springs-Sign.jpg
479
640
Kay Kudukis
https://www.palmspringspreferredsmallhotels.com/wp-content/uploads/2019/09/PSPSH-Logo-Rev-300x246.png
Kay Kudukis
2022-12-31 17:35:54
2022-12-31 17:36:27
Let's Get 2023 Started: January Events In Palm Springs