And Baby Makes Three: A Getaway to Palm Springs as New Parents
As if 2020 wasn't crazy enough, I welcomed my first baby in 2021. Adjusting to life with little Mabel has been a wild adventure, yet mostly done at home. I've always loved to travel and especially hop in the car for a road trip. With all things considered, the first weekend of Spring seemed like the perfect time to head out to Palm Springs.
If you're thinking, they're crazy to travel with a two-month-old. Don't worry, my husband, Mike and I also had that thought. Yet, in Palm Springs, there's no better place to chill-lax and do a lot of nothing except enjoy the views, pool, food, and weather.
We ventured out from Ventura County early Saturday afternoon. In the "old days," I would have been gung-ho to leave early and make pit stops along the way. This trip? It was all about Mabel's feeding times and keeping her in a good mood. While she does well on car rides, we love that Palm Springs is under 150 miles. This keeps us at three or fewer hours away. We did end up stopping a bit, yet still arrived while the sun was shining.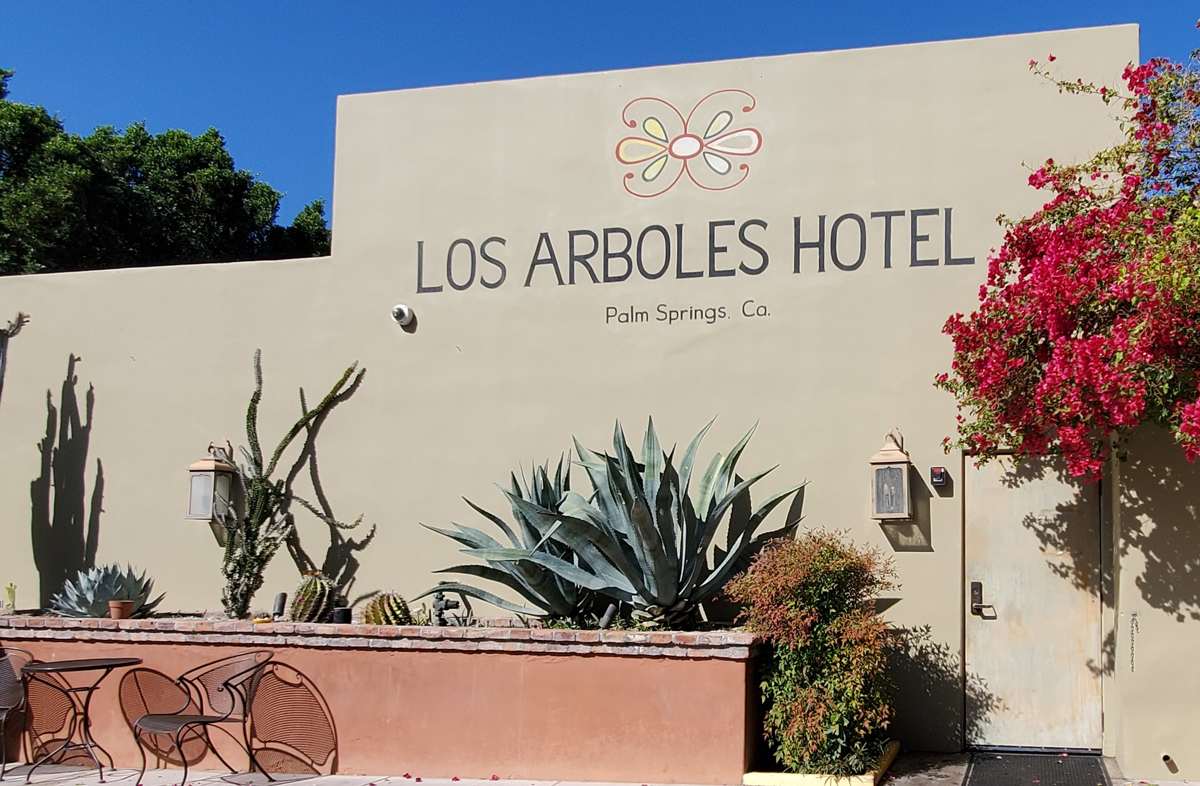 Nestled on the corner of Indian Canyon Drive and Tamarisk Road, we were thrilled to check into Los Arboles Hotel. Los Arboles is centrally located along the chic Uptown Design District and Movie Colony. They're also a stone's throw from foodie favorites like Cheeky's. Need I say more?
With six room types, we made ourselves right at home in an Expanded Express suite. Instead of just grabbing our suitcases, we got baby situated with her playpen, toys, diaper bag, and bottle warmer. Despite the "express" title, our suite was spacious even with our extra load of gear. Our room boasted tile flooring throughout, a dining nook, bathtub, rain shower, an old Spanish-style armoire, and a vase of fresh flowers courtesy of Hermano Flower Shop. We thought the small dining corner would be great as we opted for mostly takeout yet we enjoyed our adorable patio at the entrance foyer. The weather was gorgeous and helped us enjoy the laid-back vibes even more so.
The grounds at Los Arboles take you to many different places. The surrounding desert mountains make it so you never forget where you are. Hacienda-inspired architecture gives you the essence of Spain. The aroma of homemade food from the hotel's restaurant, El Mirasol, will take you South of the border. My favorite was the tropical inspirations thanks to the array of exotic plants and trees throughout.
With a baby in tow, we were nervous about her getting fussy. Luckily, Los Arboles' hotelier, Karina Castaneda, kept this in mind. She reserved us a room tucked away in the back of the hotel with no shared walls. Personal touches like that can be hard to come by. It's one of my top reasons for staying in Palm Springs. You can tell Karina and her family takes great pride in giving their guests a stay that feels more like "home."
Something I appreciated more than ever during our stay was the food. Days are so filled with taking care of Mabel, that we often slack on meals. Having a terrific slew of restaurants available, from higher-end to casual, was just what mommy and daddy needed.
Having previously been to 849, their Scottish Steelhead was on my mind. Within a 5-minute walk of the hotel, 849 is a staple along the Uptown Design District. Its modern, posh dining atmosphere and patio make you want to look cute and maybe get out some heels. Since leggings and tees were more the goals this trip, we opted for takeout. The steelhead was flaky and cooked to perfection. Mike enjoyed the grilled Cubano sandwich with fries. Mabel took in the sights and sounds from the television (great OnDemand lineup with HBO) while we enjoyed our meal.
Did I mention how close you are to great restaurants? Another one is Cheeky's. A Buzzfeed darling, Cheeky's offers up modern takes on traditional breakfast favorites. What gets them the long wait times? Cult favorites like their bacon flight and Bloody Mary's. One of my favorite highlights of the trip was enjoying our Cheeky's takeout on the patio back at our room. I devoured my waffle (as always). Mike thought the bacon flight, which is five pieces of flavored bacon, was worth it.
When lunch rolled around, we found two fantastic and casual options. Favorites among the locals, Native Foods is a 100% vegan menu while Chicken Ranch is an excellent and healthy choice if you're not looking for entirely plant-based.
Although past trips have found me taking a ride up the Aerial Tramway, we decided to hold off on it again until Mabel is older. Instead, we drove out to Palm Desert on a sunny Sunday afternoon to experience the Living Desert. 20 miles from Los Arboles, the Living Desert blends an impressive zoo with nature trails and botanical gardens. Visitors young and old will also appreciate their elaborate G-scale train set outlining the California railroad.
Even though it feels a bit more exhausting traveling with a baby, Palm Springs was ideal. I look forward to returning in years to come and tell Mabel that her very first trip was here.
https://www.palmspringspreferredsmallhotels.com/wp-content/uploads/2021/04/Check-into-the-Los-Arboles-Hotel-C-Mary-Farah.jpg
786
1200
Mary Farah
https://www.palmspringspreferredsmallhotels.com/wp-content/uploads/2019/09/PSPSH-Logo-Rev-300x246.png
Mary Farah
2021-04-09 09:00:47
2021-04-11 13:05:15
And Baby Makes Three: A Getaway to Palm Springs as New Parents