"You have some queer friends, Dorothy." – The Road To Oz, Frank Baum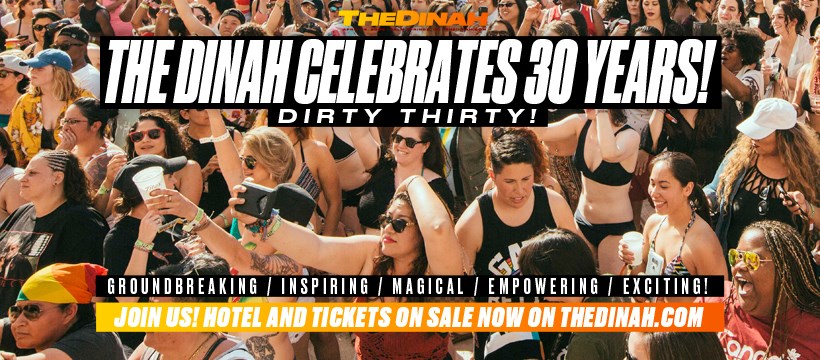 Drumroll! The Dinah Weekend has returned! The largest lesbian/queer/non-binary party starts on September 29, and runs through October 3. Bonus: It's celebrating its 30th birthday!
Check out the link above for the 411- they continue to add. But before you book a room, check out options at Palm Springs Small Preferred Hotels. Side effects of a boutique hotels: sleep better, quiet time when you need it, romantic time when you want it, and then the big party after a disco nap. It's also less crowded than the big hotels, which means you are a bit safer.
If you check out lesbian events in Palm Springs, you'd get the impression that book clubs and hikes are the only strictly non-stick activities, but I am 100% certain lesbians are interested in some slammin' party events (see any photo taken at The Dinah). After all, girls just wanna have fun.
Even "MeetUps" has nothing for lesbians. When I asked a few of my sapphic friends, they said they mostly hang out with the boys on Arenas, or at 1501 Gastropub which is neither straight nor gay, just cool. Which makes me think lesbians are woefully underserved in Palm Springs, and it's time to step it up! (I have no suggestions, just a protest sign. I'm an activist running on empty for this one.)
The gay guys, on the other hand, have everything covered. From hotels, to restaurants, to bars and events. Their cup runneth over. So, here are some of the great spots for gay men here in Palm Springs.
HOTELS that cater to gay men
INNDulge – Well-named and floating with hospitality, this clothing-optional resort is delightfully indulgent in all the best ways.
Hacienda at Warm Sands – A longstanding Palm Springs favorite of discerning men, this resort boasts beautifully lush and tropical landscaped grounds,
Vista Grande Resort – This was the first gay, clothing-optional property in Palm Springs and its testosterone-charged atmosphere makes you feel alive.
Triangle Inn Palm Springs – Small and intimate, the mid-century Triangle Inn (designed by Hugh Kaptor, no less!) offers serenity in the desert.
El Mirasol Villas – Built in the 1940s by Howard Hughes, El Mirasol Villas offer men a blend of Spanish style and bygone Hollywood.
Desert Paradise Resort Hotel –  A lovely luscious sanctuary that routinely attracts repeat guests (who often view the hotel as a second home).
All Worlds Resort – Palm Springs largest gay men's resort has something for everyone.
Santiago Resort – High-end and all-inclusive, the clothing-optional Santiago Resort boasts the largest pool of any boutique hotel in town.
Descanso Resort, a newly refurbished, completely reimagined men's resort brought to you by the guys of the Santiago Resort…with the all-inclusive services and care you expect.
And coming soon, another brother property, Twin Palm Resort. Watch for it!
You can also use the sort button on the Palm Springs Preferred Small Hotels website (I've already put in the search parameters for you. You're welcome.)
Restaurants & Bars
All restaurants are all friendly, but this description cracks me up. Gay Desert Guide describes Rio Azul as a "Very gay tapas restaurant." They have four-top swings at some of the tables, which is fun. It's a great place to watch the Pride Parade too.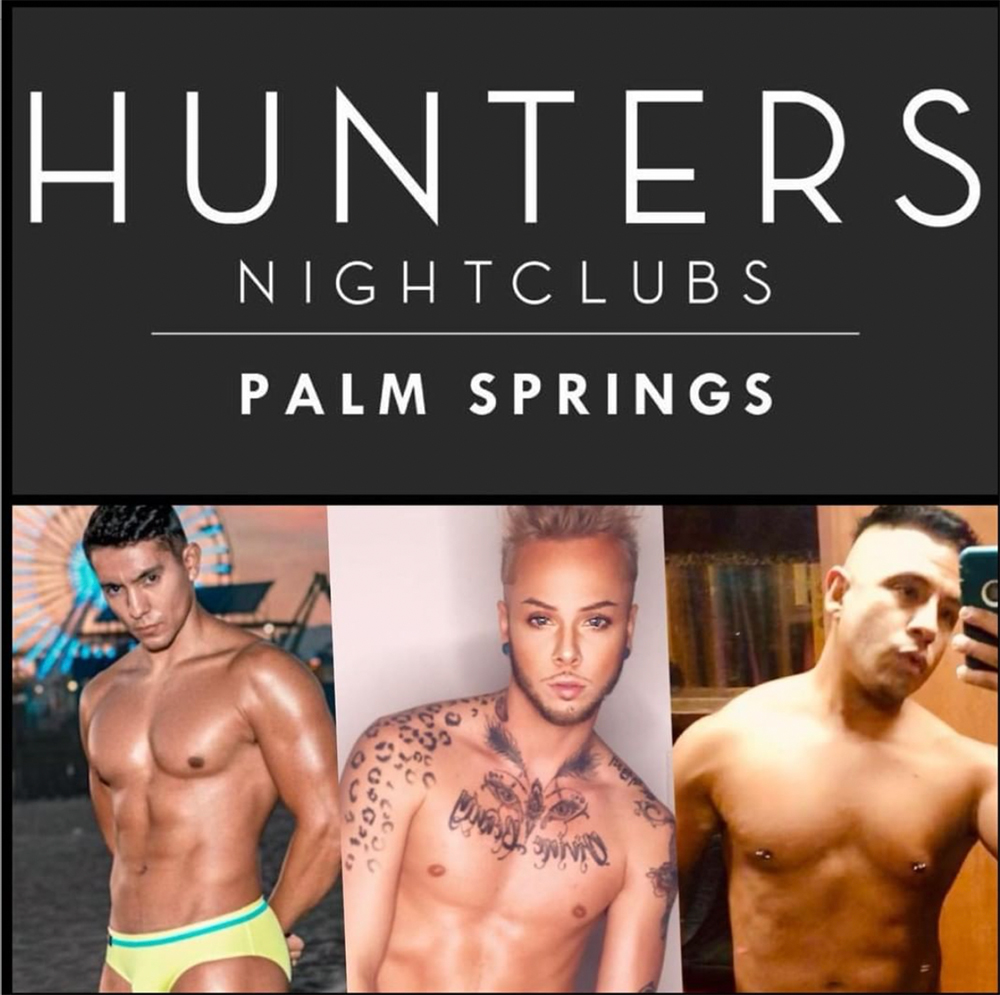 ON ARENAS
In Chicago there was a street lined with gay bars, just north of Belmont that we called "Boys Town". Arenas is just like that. A small street packed with gay bars and restaurants. If you know where Lulu is, go east young man, away from Palm Canyon, and across Indian Canyon, where you will find party land. Not all of the gay establishments are on this street, but a good deal of them are. It is also a great place to shop for clothing. Please note that many of these places require proof of vaccination (smart!), so make sure you have it handy.
Bars/restaurants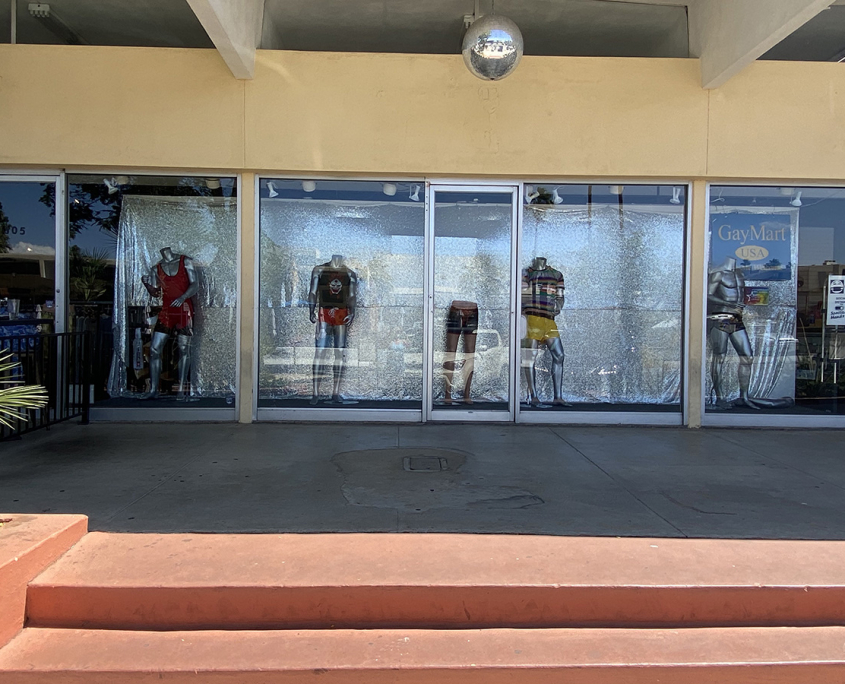 Stores
Off Arenas Bars and Restaurants
Oscars – Home of the Sunday night T-Dance.
Tool Shed – on Sunny Dunes
Q Trading Company – on Sunny Dunes where you can pick up a copy of local writer, David Eugene Perry's book, Upon This Rock – a twisty, gay, thriller set in Orvieto, Italy.
Beginning September 16 is Cinema Diverse, which is streaming with, it seems, a few drive-ins that are not included with the passes.
Lastly, BOOK FOR PRIDE NOW! Check out our resort hotels for great options. I'd hate to see you sleeping in my bushes. They're not comfortable. I may or may not have first-hand knowledge.
https://www.palmspringspreferredsmallhotels.com/wp-content/uploads/2021/08/Triangle-Pool-boys.jpeg
1068
1424
Kay Kudukis
https://www.palmspringspreferredsmallhotels.com/wp-content/uploads/2019/09/PSPSH-Logo-Rev-300x246.png
Kay Kudukis
2021-08-31 09:00:41
2022-08-30 10:06:40
All Gay, All Day