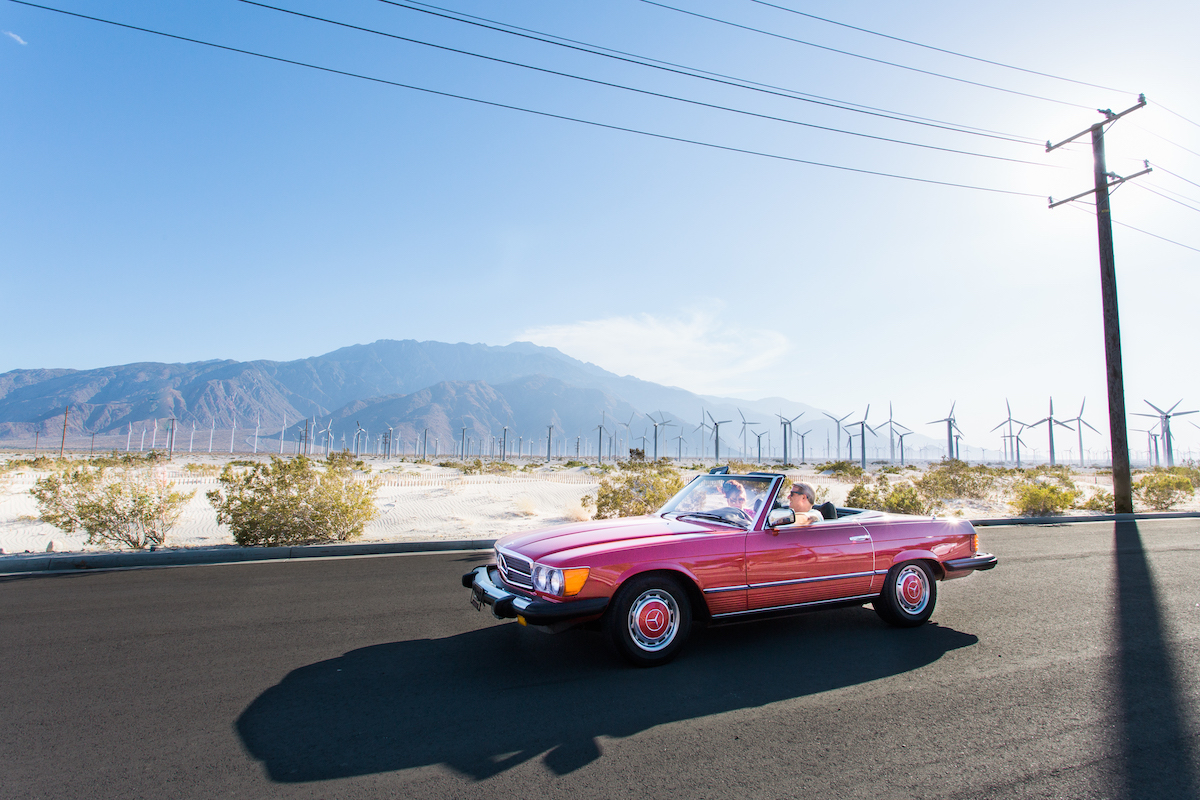 "I try not to limit my madness to March." — Maxine (a.k.a. John Wagner for Shoebox Cards)
For most of the world, March is a tempestuous mistress. Cold and blustery, then cold and sunshine-y. She's a whole lot of brrrrrrrrr.
In Palm Springs, March is more of a minx: flirty and fun. Her daytimes are generally in the 80s and sometimes 90s, however she can give you the cold shoulder, too. Especially at night. The solution is to bring your swimsuit and a bunch of layers because in Palm Springs, March is a swinger. She gets a bit chilly at night but bounces back by 10 a.m.
Without further ado, we will now continue our fun streak of delightful Palm Springs activities, with one event that's so cool I might have just peed a little reading about it. Read on while I change me undies:
New restaurant alert:
Dinner and a show:
March 3, 4, and 5: Lucie Arnaz: I Got The Job 
March 6, 13, 20, 27: The Judy Show 
If you've read this blog before, you know it's my favorite show in town.
March 11 and 12: John Lloyd Young 
March 17, 18, and 19: Marvelous Marilyn Maye
March 25 and 26: Joe Pasa as Joan Rivers
Dinner and a lip sync show! The costumes are outstanding! Same producers as the one in San Francisco.
Pop 80s — Featuring The Gand Band
Gospel Brunch with Keisha D
Laurel Canyon — a tribute to those artists of the area, like Linda Rondstadt, Joni Mitchell, and The Doors (with music from The Gand Band).
The Mod Squad Variety Show — Another personal favorite, this one's a brunch.
Ovation — A jazz-inspired Sunday brunch.
Light — I have always wanted to see this show! Described as an "unparalleled multi-sensory journey" that offers an "unprecedented dining experience through culinary art and technological innovation."
Broadway Blind – A musical Sunday brunch.
A Night at the Chi Chi — Mark your calendars, this one's on April 1 and 2.
The Women Of Knots (that's Knots Landing, people!)
Drinks and entertainment:
Cascade Lounge at Agua Caliente in downtown Palm Springs
Jazzville — Every Thursday
Caliente Comedy — Every Friday 
Latin Nights — Every Sunday
Theater:
Palm Canyon Theater
Palm Springs Getaway! Runs until March 13.
Desert Rose Playhouse
Electricity
Brian Justin Crum 
Palm Springs The Musical: Born To Sparkle — World premiere!
The Annenberg
The Anniversary — A full-length dance film event.
Coachella Valley Symphony Concerto Concert
Lilias White — White has appeared in cabarets and concert halls around the world, including the Kennedy Center, Carnegie Hall, the Sydney Opera House, and Lincoln Center. Her debut solo studio album, Get Yourself Some Happy!, was released in July.
Desert Ensemble Theatre
All This Intimacy — Described as a sex comedy gone wrong.
Dezart Performs
The Mountaintop — A reimagining of Martin Luther King Jr.'s last day at the Lorraine Hotel and his encounter with a young maid. There's a huge twist in this play, something you can expect to be handled brilliantly by Dezart. 
All the rest:
Palm Springs Chalk Art Festival
OMG!! I LOVE chalk art, especially from artists with a sense of whimsy. One of my favorite creators on TikTok is chalk artist David Zinn. This is a free event.
MOGO Silent Disco Tour
If anyone wants to do this, please include me!
Palm Springs Vintage Market
This Palm Springs staple will run on March 6 from 7 a.m. to 2 p.m. 
French Cooking Classes
In the chef's private home — all reviews are spectacular!
Of course the old "musts" are still available, and if you haven't, well…you must!
Hiking at Indian Canyons — Please note: closed on March 11 for the Legacy Hike. 
Happy Palm Springs everyone! See you in April.
https://www.palmspringspreferredsmallhotels.com/wp-content/uploads/2022/02/vintage-car.jpg
800
1200
Kay Kudukis
https://www.palmspringspreferredsmallhotels.com/wp-content/uploads/2019/09/PSPSH-Logo-Rev-300x246.png
Kay Kudukis
2022-02-26 16:13:47
2022-02-27 10:11:07
It's Time For Another Action-Packed March In Palm Springs