By Susan Montgomery
My daughter (who is 40-something) is a busy surgeon in San Diego.  I love to travel with her, but she does not have much time to get away. The challenge is: Where can we enjoy a weekend getaway that is not too far away and still feels like a real retreat? Fortunately, we have a lot in common when it comes to our travel preferences. We both love nice hotels with all the amenities (including a fabulous pool of course), wonderful restaurants and cocktails, unique shopping, and lovely weather in the great outdoors.
We have taken a few trips to Palm Springs together and found everything we want in a getaway, including beautiful weather almost any time of year. This article highlights a few of our wonderful experiences on several trips. If you would like to visit Palm Springs with your daughter (or your mother or your sister or your best friend), you might like to stop at some of these spots too.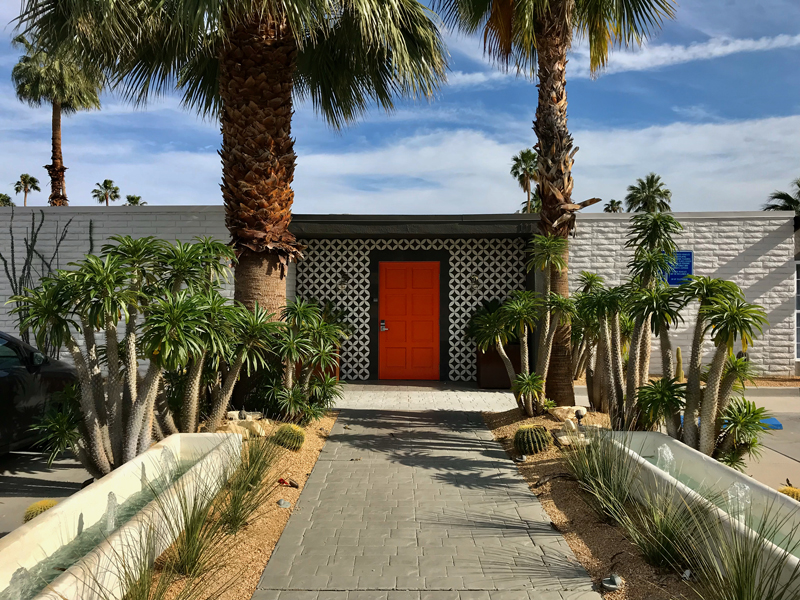 Stay at The Weekend
We love staying at the small boutique hotels in Palm Springs where we find privacy and serenity in lush settings. While we've had relaxing stays at several delightful hotels, I think The Weekend Palm Springs is an ideal choice for a mother/daughter getaway because it offers stylishly furnished two-bedroom suites. My daughter and I prefer our own rooms so this works well for us. At The Weekend, we can stay together but have our own separate rooms for sleeping. (I've heard that I snore, but that can't possibly be true.)
A classic example of mid-century modern architecture, this sleek, luxurious hotel in the lovely Old Las Palmas neighborhood was once a retreat for many of the "rat pack" Hollywood celebrities. The structure has recently undergone a stunning, multi-million dollar renovation but still retains its historical character. These suites surround a beautiful, inviting pool with lounge chairs and benches. (I can just imagine Marilyn Monroe languidly lounging by the pool.) The Weekend is a peaceful getaway but still within easy walking distance of hip bars, restaurants, and shops. Included with each stay is a delicious, ample continental breakfast delivered right to your room every morning. We both love savoring early morning coffee and really looked forward to the delectable breakfast trays.
Eat and drink
There are so many special spots in Palm Springs for great food and cocktails. Here are just a few suggestions for places my daughter and I love.
Azucar is the restaurant at La Serena Villas and is a perfect stop for lunch or dinner. The setting is modish and open with an upstairs deck overlooking the mountains and the pool. The cocktails are innovative and the food is equally tantalizing. We loved the fish tacos and watermelon salad with feta, but there are many other enticing choices.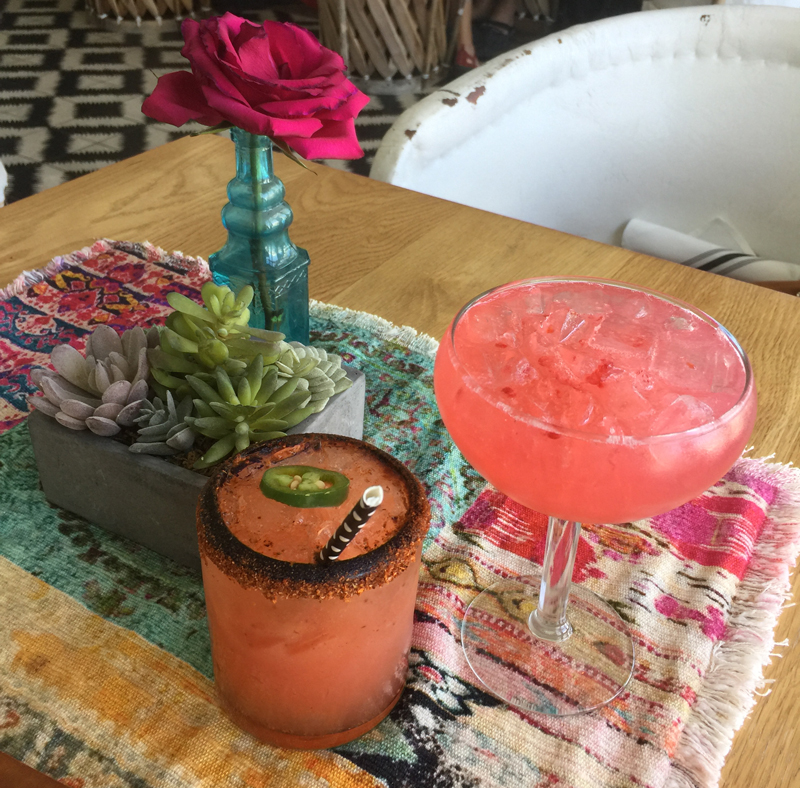 Holiday House is another chic restaurant in a small hotel. Its bar focuses on creative cocktails (such as the Aperol Spritz or the Club 55 martini (made with gin, elder flower liqueur, lemon, and rosemary-infused syrup). For lunch, if you are really hungry, you will love the juicy Pantry Cheeseburger or for a healthier option, try the Baby Kale Salad topped with salmon.
Cheeky's (adjacent to the Alcazar Hotel) is the perfect place for a tasty breakfast or lunch before exploring Palm Springs. We love their cheesy eggs and unique bacon flight accompanied by great coffee or a spicy bloody mary. (Start the day with a zing!)
Wexler's Deli at another small hotel, Arrive, attracts a lively youngish crowd, but this older babe loved it too. The vibe is rocking and the drinks are refreshing. We tried the savory smoked fish platter that paired well with some unique cocktails, including one that looked just like a snow cone (but was infused with vodka)
For Late Night Fun
When traveling with your daughter, you can't go to bed too early. After dinner, the night has just begun and there is lots to do in Palm Springs.
My daughter particularly enjoyed the cozy speakeasy, Seymour's, which is hidden away in the famous steakhouse Mr. Lyons (also an excellent dining choice). Its secret location and dimly lit atmosphere capture the ambiance of prohibition days. Creative cocktails are imaginative and delicious.
The Purple Room in the Trinidad Hotel is an iconic supper club with live entertainment Tuesdays through Sundays and vintage cocktails like Old Blue Eyes, the signature old-fashioned that was evidently Frank's favorite drink. The dinner menu also offers traditional, nicely prepared steak, fish and pasta options. When we were there most recently, the talented owner, Michael Holmes, was performing a special show with nostalgic rat pack songs that carried us back to a bygone era. I almost expected Frank Sinatra and Dean Martin to stroll out on stage to soothe us with their old favorites.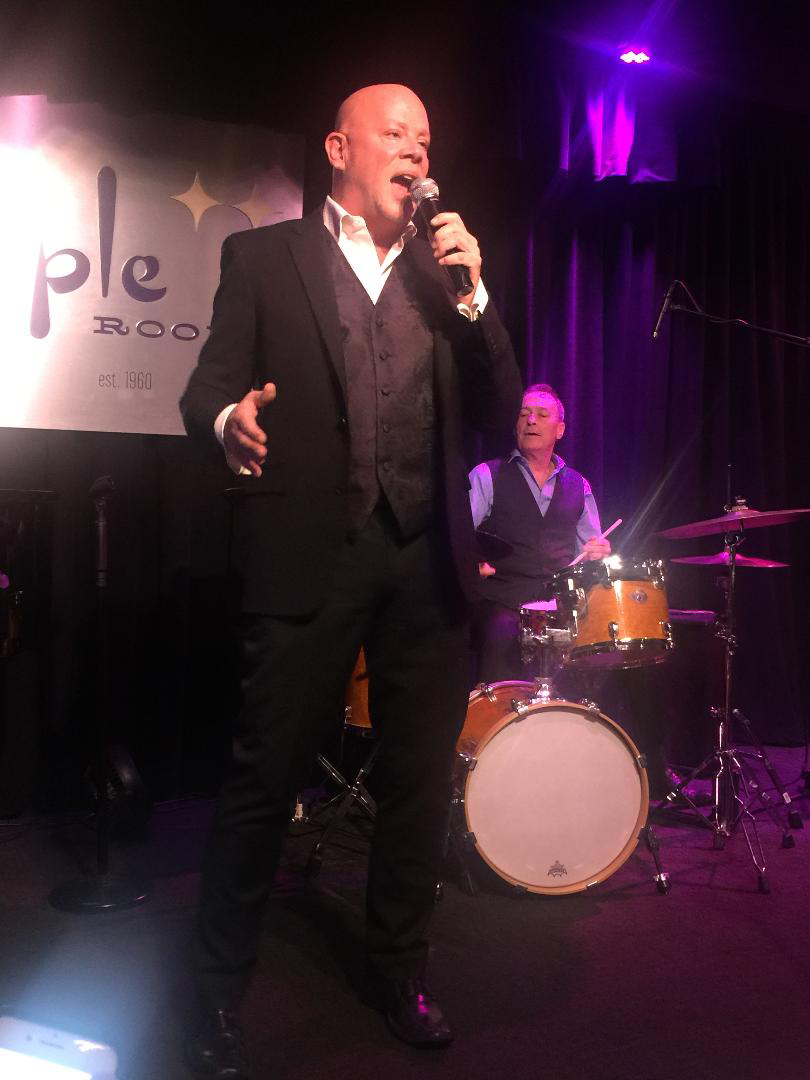 Also harking back to the Hollywood era is the Casablanca Lounge in Melvyn's Restaurant at the Ingleside Inn. (Melvyn's is also a romantic spot for classic dishes like Steak Diane and Bananas Foster prepared flambè at your table.) Guests sip cocktails and dance to live music most nights, making this a perfect stop for an after dinner drink.
To do:
Besides eating and drinking, there is lots to do in Palm Springs—all activities that appeal to both my daughter and me. Most of the small hotels have bikes for guests and plenty of tours are available from celebrity home bus tours to walking tours around various neighborhoods. We love the entrancing Palm Springs Art Museum. The impressive collections focus on art of the Americas and California, including Native American artifacts and contemporary glass art, highlighted by a stunning Chihuly sculpture. My daughter and I have also really enjoyed the Palm Springs Aerial Tramway. In ten minutes, you can ride in a unique tramcar (with a rotating floor) from the Coachella Valley desert up 8,500 feet to a top peak of the San Jacinto Mountains. At the top you can savor the gorgeous views, hike around, and then have lunch. And of course once you are back from your tram ride, you can shop, shop, shop in the many small boutiques with unique items you can't find anywhere else. We particularly like the shops with mid-century furnishings and décor.
We never get tired of visiting Palm Springs. There is so much to see and do — and eat and drink — and it's so special to share the experience with your daughter — or your mother. I hope to go back with my daughter for my birthday soon.
https://www.palmspringspreferredsmallhotels.com/wp-content/uploads/2019/11/Mother-Daughter-get-away-to-Palm-Springs-web-e1573513098160.jpg
626
800
Susan Montgomery
https://www.palmspringspreferredsmallhotels.com/wp-content/uploads/2019/09/PSPSH-Logo-Rev-300x246.png
Susan Montgomery
2019-11-13 08:00:39
2019-11-11 23:03:16
Mother & Daughter Getaway to Palm Springs