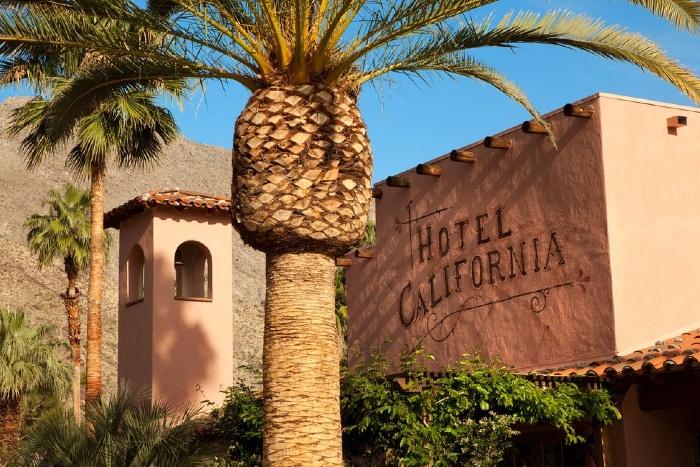 Neil Mehta was impressed as soon as he walked onto the grounds of the Hotel California.
The Hotel California is consistently voted as one of the top hotels in not just Palm Springs, but the entire country. That's just one of the reasons why Neil purchased the 14-room hotel in January 2019.
"It has a really nice intimacy to it," Neil says. "There are a lot of different areas where you can get away and be by yourself. If you want to have a cup of coffee and stare at the mountains, you can do it in two or three different spots upstairs. But if you want to be surrounded by other guests, you can go to the pool."
Originally built in 1942, the Hotel California is decorated with Spanish charm. It has a private courtyard, heated pool, spa, poolside cooling misters, fire pits, barbecue patio, and secluded outdoor cigar lounge.
At the same time Neil bought the Hotel California, he also purchased the Desert Riviera Hotel. As it turns out, both hotels once had the same owner.
"That great customer service culture was implemented at the Hotel California and Desert Riviera by the same owner long ago, and they've done a great job upholding that standard of service," he says.
The Hotel California has a loyal following, with guests coming back year after year. Neil is looking forward to interacting with visitors, and is "extremely excited about the prospect of not only continuing the legacy of the prior owners, but also trying to find areas where we can improve and make guests feel even more like family,"
Neil has spent the last 10 years doing real estate development, and also owns a residential real estate company in Orange County. In 2014, he bought his first hotel in Newport Beach, and fell in love with the hospitality industry. Neil feels "lucky and blessed" to now own both the Hotel California and Desert Riviera, and is looking forward to getting settled in town.
"I am a big fan of the city of Palm Springs and of the culture that has always embraced diversity," he says. "I'm excited to be part of it, to grow our business, and to provide positive experiences for guests."
https://www.palmspringspreferredsmallhotels.com/wp-content/uploads/2020/02/Hotel_California_Night_Fountain.jpg
853
1280
Elizabeth G. Arcia
https://www.palmspringspreferredsmallhotels.com/wp-content/uploads/2019/09/PSPSH-Logo-Rev-300x246.png
Elizabeth G. Arcia
2020-02-24 09:00:46
2020-02-03 23:09:18
Hotel California: You can leave — but why would you want to?