Palm Springs is known for its excellent restaurants and umbrella drinks around the pool. However, after an evening enjoying our restaurants and relaxing music venues, you may need an eyeopener cup of coffee or a light breakfast the following day. Here are a few locally owned coffee shops you might want to consider.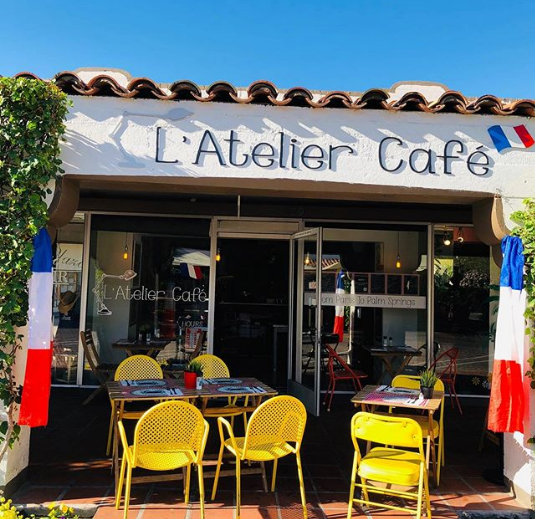 L'Atelier Café means coffee shop in English. It is located in our historic La Plaza. Thus, it is centrally located and about two blocks from the well-known La Serenas Villas boutique hotel.
Like so often happens, this town draws people in and makes it hard to leave. Visiting Palm Springs from Southern France, the present owners dined at this coffee shop. While sipping their coffee and people watching, the enchanting charm of this desert city hooked them. The words, "This café is for sale," are stuck in their heads as they head back to France.
Three months later, they sold their place in France and bought the café. Now, this thriving location has people raving about its croissants, brioche, and quiche.
Want a quiet place to meet friends or work on the next great American novel? There is a Koffi nearby to serve you. With three locations in Palm Springs, you just have to search out which one is nearby your hotel.
North Koffi appears to be your average coffee shop. However, after you have your coffee and breakfast pastries in hand, continue walking to the back of the store. Once you walk through the door, there before you an expansive grass-covered courtyard, complete with sculptures, a view of the mountains, lounging chairs, and palm trees. If you are lucky, you may even see the resident roadrunner.
Central Koffi is the newest addition in Palm Springs. Located on busy Tahquitz Boulevard, it is set far off the street, so it is quiet under the bright blue umbrellas. If you want a pleasant place to have a meeting, this is a place to consider.
South Koffi, located in South Palm Canyon, is one busy place. Serving the same great coffee and pastries as the others, its location is perfect for a quick stop before heading down the valley or to one of our many trails.
Ernest Coffee is an independently-owned coffee shop in the former home of the Don Beachcomber in North Palm Springs on North Palm Canyon Drive. Look for a building with lots of orange accents and the original tiki torches guarding the door. Their patio is a great place to strike up conversations with others who have discovered their excellent Stumptown Coffee.
Located near Coyote Inn, this coffee shop is a great place to go for breakfast for their variety of pastries. Be sure to try their flaky, so satisfying scones.
The adventurous types will be delighted to discover the wide variety of coffee drinks and teas. The baristas are creative, so you never know what the special of the day maybe. How about a golden milk kind of chai tea with healing herbs and coconut milk? Okay, you got the idea; this is the place to try something new or just enjoy a perfect cup of coffee to start your day.
Palm Springs is known for its mid-century architecture for a reason. Great care has been taken to preserve buildings built in the mid-50s and 60s. Happily, Café LaJefe's new home is located in a repurposed bank building in the Uptown Design District. It is right around the corner from the Los Arboles Hotel.
Their large patio provides the backdrop for your Instagram photos of your Palm Springs vacation with its colorful string-back chairs. Of course, these comfortable chairs, many of them rocking chairs, will beckon you to stay longer than you had anticipated.
Believing in partnership, the owners seek out ways to not only serve their community but provide sustainable coffee from Sister's Coffee in Bend, Oregon, and gourmet food from local artisan Chula Artisan Eatery.  Thus, you can get your morning pick-me-up cup of coffee and grab some healthy organic food for your lunch later in the day.
One wouldn't expect a coffee shop to have thirst-quenching Italian sodas. However, the local owners of Ristretto are well aware that our summer's rising temperatures increase the need for a cool, tall drink. Thus, why not a drink that is not readily available in other places in Palm Springs.
Across the parking lot, Bank of America is one of the most iconic modernist architectural buildings in our city. If you stay at the Ingleside Inn, it is easy to walk across the street for a scone or a muffin. Their inviting patio literally sits at the foot of the Jacinto Mountains.
Are you going on a hike? They have vegan choices and salads that will be perfect for eating as you hike and stop and take a break as you sit and enjoy the views looking over Coachella Valley.
The Northside of Palm Springs needed a coffee shop. Thus, when 4 Paws Coffee Co came into the neighborhood, it was greeted with cheers. Guests of hotels, such as The Cole, can now grab a cup of coffee on the way to exploring our many attractions.
Not only are dogs welcomed, but they also get a free treat. The "puppy cup" (whip cream with a dog treat bone) is a big hit with their 4-legged guests. It is not unusual to see dogs in training as service dogs, for the atmosphere is conducive to quiet contemplation and people watching. In addition, the coffee shop is a great supporter of our animal shelter programs.
They have breakfast entrées. Word is their turkey croissant alongside their organic and certified coffee salted caramel latte is a great lunch.
Part of Palm Springs' charm is the slow pace and the ability to stop and relax practically any place in the community where you can see our magnificent Jacinto Mountains. So, take your time and stop in one of our local coffee shops. You are sure to meet some of our residents who are ready to share our history and give you suggestions for places to see that are often now obvious to a visitor.  Better yet please take advantage of our summer discounts and stay longer.
https://www.palmspringspreferredsmallhotels.com/wp-content/uploads/2021/07/LAtelier-Cafe-Brings-France-to-Palm-Springs-Photo-Credits-Pexel.jpg
508
1200
Kathy Condon
https://www.palmspringspreferredsmallhotels.com/wp-content/uploads/2019/09/PSPSH-Logo-Rev-300x246.png
Kathy Condon
2021-07-12 09:00:55
2021-07-22 12:19:57
A Variety of Palm Springs Coffee Shops Beckon You to Stop