August: Summer's Last Stand
"In August most of Europe goes on holiday." ―Tony Visconti
In Palm Springs, just like Europe, many local shops/restaurants close, and take a vacation. That doesn't mean we roll up the streets and close the blinds – we're not a ghost town by any stretch of the imagination. We're still mostly open, and have a ton of wonderful getaway hotels for you to have the perfect lazy break from the every day. Generally, prices go down a bit, so you can catch a real bargain.
And yes, Splash House is happening, but if you don't already have tickets, you're SOL. But I've still got some stuff you might fancy doing, so grab a coffee or a cocktail (I'm not judgy, it's been a crap year.) and read on:
Early mornings are still okay for a quick walk to a coffee shop; you can read about them here.
Want more than coffee? How about a breakfast-y, lunch-y, brunch-y situation? Here's a great article about all of your brilliant choices. There is also newcomer, Sam's Place, (now serving alcohol) where Ruby's Diner used to be (2020 RIP).
Afterwards, wander up and down the strip. Most of it is enhanced with misters, so you'll stay pretty cool while you do it. Don't forget your hat and sunscreen though. And pay attention to where you're walking, you might be stepping on one of your favorites on our Walk of Stars.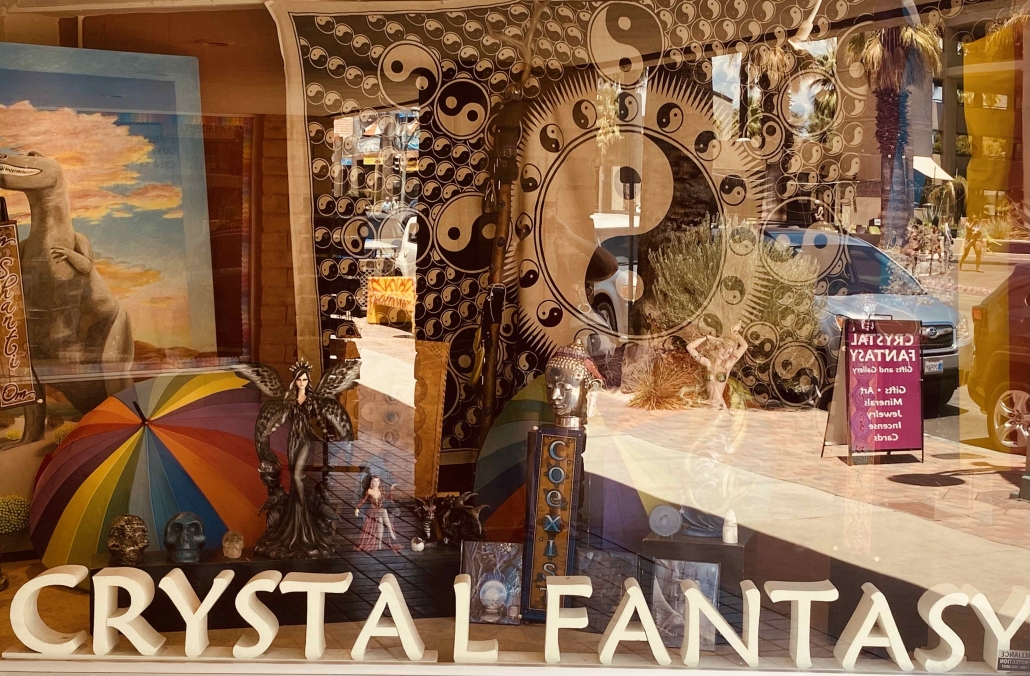 Stop in at Crystal Fantasy and have a reading (psychic, tarot, palm), or get a piece of jewelry with the latest TikTok must-have crystal, Moldavite. I'm told there's a new girl in town that's about to blow up on TikTok – you can ask their well-informed staff all about it, and what might work best for you. They also have woo-woo classes you should check out if you're into the woo.
Time for a nap, right? How about a little sunbake (with sunscreen) by the pool. But not after 11 a.m., and don't forget to hydrate your insides while you think about nothing until cocktail hour. We have some outstanding restaurants, and I've written another post about all of our international delights. We have outstanding American restaurants here, I just didn't include them.
And…Wash. Rinse. Repeat. That's what sane people do on a lazy getaway.
For those who are toeing the edge of sanity, aka anyone who needs to "do something", then read on:
Shows:
PS Underground – see the full list here. They've got a new one, collaboration with Nickerson/Rossi Dance called Repertoire that looks pretty cool.
Music: 
Wednesdays: Jazzville is back, and it has a new home! DJBaz brings in the best jazz players from around the country, so book these fabulous shows well in advance. At the Cascade Lounge in the Agua Caliente Spa in downtown Palm Springs.
Woody's Motown Monday nights, Saturdays is the Stanley Butler Band, Sunday night entertainment is happening but so far it's TBD.
Comedy!
August 6: Off The Charts Dispensary and Lounge brings nationally touring comedians to their Williams Road dispensary. "Raffles! Prizes! And Goodie Bags!" says the flyer. Seating is limited. Take an Uber. I don't know the parking situation there. Nor is the event on their website. But I have a flyer, dammit.
The Cascade Room is not only bringing jazz, but also comedians to Agua Caliente Spa Casino.
8/20: Jamie Kennedy
8/27: Deon Cole
You're A Star:
If you're a fan of musicals, drag queens, gay choruses, and movie sing-a-longs, you're gonna love this. The All-Summer Sing-A-Long at the Palm Springs Cultural Center.  If you're into lifting your voice with like-minded people, this is church. Hosted by the fabulous Rosemary Galore. Book here.
We've also got the Retro Room, where you can Karaoke the night away, and it's all about you, up on stage, belting your heart out.
Michael Holmes and the Purple Room are returning on 8/31. His Judy Show is my favorite show in Palm Springs – he plays Judy Garland, Bette Davis, and Pearl Bailey and he's hilarious. When I told Michael I was looking forward to it, he said, "I've gained so much weight during Covid, I may have to do Totie Fields instead." I've seen him, he looks great. Judy will go on, as will the other great acts he brings in from all over the country.
I can't say this loud enough, BOOK FOR PRIDE NOW! Book your hotels, and book your seats for the parade. Roly China Fusion has the trifecta on parade day: Drag Queens, Drag Brunch, and a rooftop spot to watch the parade. Make reservations here. Or you can wing it on the street. But the hotels?  Do that for sure now.
On a personal note: We are a tight knit community. We know how lucky we are to live here. Palm Springs is a very special place. We care about each other. To that point: If you have been vaccinated, please, come enjoy the mask-free environment. If you haven't been vaccinated, for whatever reason, I have a 93 y.o. uncle I'm trying to keep alive and thriving, so please wear a mask.
https://www.palmspringspreferredsmallhotels.com/wp-content/uploads/2021/04/I-love-PS-Kay-photo-lani-garfield-web.jpg
800
1200
Kay Kudukis
https://www.palmspringspreferredsmallhotels.com/wp-content/uploads/2019/09/PSPSH-Logo-Rev-300x246.png
Kay Kudukis
2021-07-31 09:00:05
2021-08-06 12:20:26
August: Summer's Last Stand