How to Stay Cool (But Not Frozen) in Palm Springs This Summer
Every summer in Palm Springs the temperatures soar, but it is still a wonderful place to visit, especially if you stay at a Palm Springs Preferred Small Hotel with an inviting, sparkling pool and a charming, cool, air-conditioned room.
In general, there are several ways you can stay cool in very hot weather. Drink lots of water and stay well hydrated.  Also remember that alcohol can dehydrate you. It's a good rule of thumb to drink two glasses of water for each alcoholic drink you imbibe. Wear hats for shade and perhaps move a bit more slowly than usual. Plan outdoor hikes and exercise for early in the morning. And take frequent refreshing dips in your hotel pool to cool off.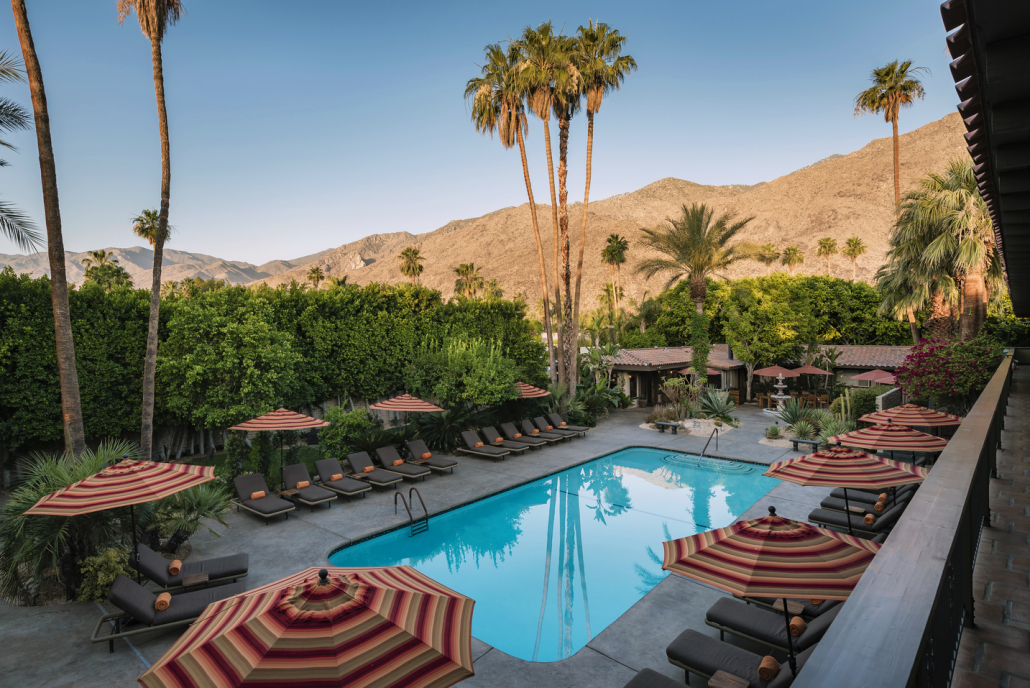 I recently spoke with two PSPSH hotel owners about the use of air-conditioning in their guest rooms. It turns out that there are easy ways to stay cool and effectively manage your AC, but there are also some possible problems you will want to avoid. Michael Green of Triangle Inn Palm Springs and Karina Castaneda of Los Arboles Hotel had plenty of good advice to keep your rooms and bodies cool.
It turns out that some guests turn the temperatures on their AC thermostats down really low when they enter their hotel rooms — an understandable tendency when you're coming inside from the high heat. However, if the temperatures are forced to drop too quickly on the thermostat, the units can freeze over and then the AC won't work at all for a while. The key is to bring the temperatures down slowly, which is what most hotels do before their guests arrive.
Here are some good tips for keeping your hotel AC working efficiently:
Keep your indoor space at a modest temperature like 76 to 79 degrees. Not only will this keep your AC working effectively, but you will be more comfortable than if you were entering your room from an outside temperature of 110 or more degrees and then shocking your body with 62 degrees. It is also much less likely that your AC unit will freeze over and stop all together if you keep the temperature at a reasonable level.
Keep doors and windows closed so the cool air does not escape. (It's surprising how many guests turn their AC on full blast while leaving their doors and windows open.)
Turn the bathroom fan on while you shower and keep the fan on for about 20 minutes after you shower to remove hot moisture from the air.
When you leave your hotel room, you might want to turn the temperature on your AC thermostat up but not off.
Keep your AC fan on AUTO and not on ON. When you turn your desired temperature down very low and you have the fan on ON, this is likely to freeze up the AC unit. It's much better to leave the AC at a reasonable temperature that automatically adjusts.
Some hotels have both air-conditioning units and what are called desert or swamp coolers, which were traditionally used many years ago before air-conditioning came on the scene. Swamp coolers blow air over water to cool and don't work well in very hot weather, in part because they add humidity to the air. AC units and swamp coolers should not be turned on at the same time.
Keep in mind that AC units tend to be different in each hotel. Make sure you follow the specific directions in your room and ask the hotel management if you have any questions.
Most small hotels try to make sure the AC is properly set and the room is comfortable and cool before guests arrive. In general, it should not be necessary to adjust the AC at all and, if some adjustment is necessary, it should be minimal.
Enjoy your summer and stay cool!
https://www.palmspringspreferredsmallhotels.com/wp-content/uploads/hotel_images/3425__028_Full_Santiago_180523_DSC3817_25.jpg
957
1433
Susan Montgomery
https://www.palmspringspreferredsmallhotels.com/wp-content/uploads/2019/09/PSPSH-Logo-Rev-300x246.png
Susan Montgomery
2021-07-04 09:00:05
2021-06-25 12:29:16
How to Stay Cool (But Not Frozen) in Palm Springs This Summer