When you fly or drive into Palm Springs from the West, you cannot miss the sudden, dramatic appearance of hundreds of windmills. To be exact, 2200 at this writing. Few people know that it is possible to take a tour of this windmill farm. Standing at the bottom of a windmill and looking up is a thrill for even the most skeptical participant.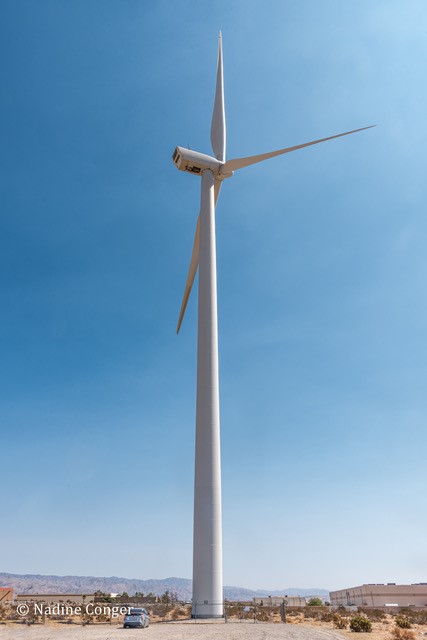 Windmill Farm Background 
The formation of the windmill farm, as it is now called, began in 1984. The location was chosen because it is consistently the windiest place in the United States. Winds are clocked regularly at 30 mph because air current is trapped and funneled between the two mountain ranges.
With the 1980s oil crisis came the need to increase the development of alternative energy; thus, this area received international attention and became a focus for rapid design and development of more efficient windmills. Today, constant research is done by four companies, including one from Spain.
Public Access 
With changing times, the Windmill Tour Company pivoted. Previously, a bus trip through the area was accompanied by a volunteer narrator for the tour. Now, one can take a vehicle with up to eight people and drive through the farm with a video or audio narration.
Upon arrival, you are handed a sanitized iPad in a plastic bag.  Then you drive through the designated path, which is marked, and look for the blue barrel with a number that matches the narrative on the video. At each stop, there is room to park so that you can get out and take as many pictures as you want.
Highlights of the Tour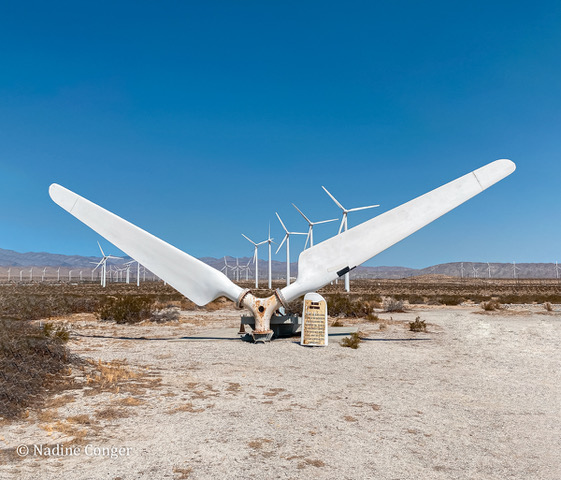 For engineer types, there is a display of the original turbines with detailed descriptions of the design. We learned that the original open-tower design proved noisy and caused the demise of many birds. Thus, it was back to the drawing board for redesign, especially the blades. Today, the fiberglass blades can be 144 feet long, almost the width of a football field.
One of the stops allows you to get right up to the windmill with a column that extends 300 feet into the air. The majesty of this engineering feat is difficult to comprehend.
This approximately 1.5-hour tour is truly a magnificent experience. You learn, take in the fresh desert air, and your appreciation of windmill power will increase tenfold.
Helpful Hints: Make reservations on their website. There are no restrooms available. Make sure you take plenty of water and a hat, for there is no shade on this tour. Finally, when you sign up for the tour, be sure to copy the directions. It is handicap accessible. 
Palm Springs Windmill Tours
www.windmilltours.com
62950 20th Avenue
Palm Springs, CA 92262
800-531-5834
https://www.palmspringspreferredsmallhotels.com/wp-content/uploads/2020/10/The-Palm-Springs-Windmill-farm-has-220-windmills.Photo-credit-Nadine-Conger.jpg
480
480
Kathy Condon
https://www.palmspringspreferredsmallhotels.com/wp-content/uploads/2019/09/PSPSH-Logo-Rev-300x246.png
Kathy Condon
2020-10-23 09:00:50
2020-10-29 16:38:06
Check out the Palm Springs Windmills with a Driving Tour