Palm Springs' vibrant vibes are attracting more and more people from around the world. Outdoor restaurant patios are filled and lovely shops cater to a wide variety of budgets and tastes. Listen closely and you'll hear happy visitors discussing their great finds or raving about the small boutique hotels they've discovered, which serve as a base to launch their Palm Springs explorations.
During the 1950s and '60s, small boutique hotels flourished as getaways for Hollywood stars. Then, as the economy changed and celebrities discovered other places to spend their time, some hotels languished. But in the early aughts, new hoteliers with creative design ideas and a desire to create a welcoming environment became a significant driver for revitalizing the Palm Springs economy.
Now fast forward to 2022. AvantStay, a premier next-generation hospitality organization, has arrived in Palm Springs. They manage and/or partially own four iconic boutique properties: The Monkey Tree Hotel, The Wesley, The Marley, and Hotel El Cid.
What can be expected from AvantStay? 
AvantStay is not a newcomer to running vacation properties — the company manages or owns more than 1,000 properties around the globe. Its goal is to make each lodging a highly curated experience. They recognize that time is valuable, and won't waste yours with unwanted or unnecessary interactions. 
Guest support is offered 24 hours a day, with concierge service available via an 800 number. Agents are always available to help and are rarely more than 15 minutes away from a property.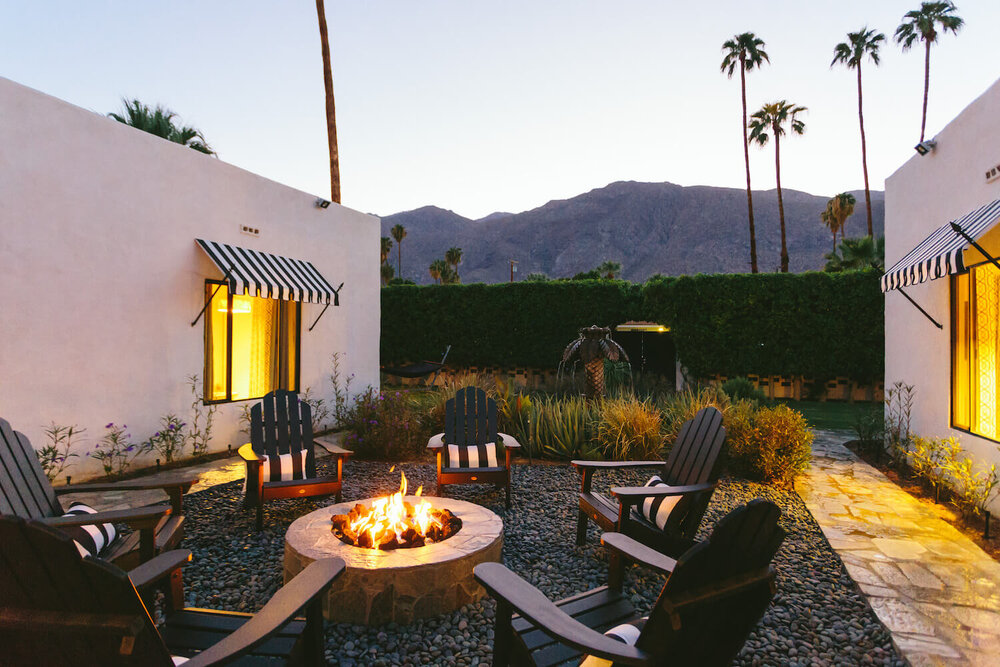 Hotel El Cid  
A family that parties together stays together. Okay, there's no scientific proof this is the case, but there is a way to plan a reunion that offers amenities for all members of the family. Hotel El Cid is an ADA-approved facility that accommodates one select group at a time, allowing guests of all ages to come together for a relaxing getaway. It's reminiscent of the experience of Hollywood royalty.
Wouldn't it be wonderful to bring everyone together for a catered dinner under the cabana by the pool, or hire a masseuse for Uncle Joe when he has a pain that won't go away? With AvantStay's concierge services, they can help make these things happen.
There is a caveat: Fufo the dog isn't allowed on property, but maybe that family member needs a break from pet duties anyway.
The Marley 
Searching for a place to hold a corporate retreat or bachelorette party? Here's an idea to consider: Rent an entire property with nine bedrooms that sleep 22 people. If that sounds intriguing, The Marley could be your answer.
With The Marley's modernism architecture, one of the stalwart styles of Palm Springs, you will be able to experience one of the more iconic buildings designed and built by the Alexander Company. Today, their homes demand a hefty price and are often the site of open houses during February's Modernism Week. When you stay at The Marley and get to sit around the pool, soaking up the warm Palm Springs sun, you're making memories in a place few people get to experience.
The Monkey Tree Hotel
Visitors come to Palm Springs from around the world to learn about the modernism style of the 1950s and '60s. What if you could stay in a place designed by one of the city's famous architects, Albert Frey? If that's your dream, consider booking The Monkey Tree Hotel.
With its iconic architectural design — a pool surrounded by rooms, brightly colored umbrellas, and lounge chairs strategically placed to catch the sun rays so you can go home with a golden tan — you won't be disappointed when you arrive at this pet-friendly hotel. Located in North Palm Springs, the 16-suite Monkey Tree Hotel is a cheerful place, with sunshine yellow dominating the color scheme.
The Wesley 
A 10-minute ride from the Palm Springs International Airport, The Wesley is a tranquil, private, and gated oasis. Visitors come here to rejuvenate, and every self-contained suite beckons you to slow down. Most have fully equipped kitchens, so it is a great place to practice cooking some of our Southwest cuisines.
The patio, part of your suite, is surrounded by lush landscape and provides the perfect place to sip a cocktail while you finally sit down and take time to read the book that's been on your list. Louis, your adorable pug, is welcome to accompany you. When the urge strikes, head out to the heated pool and meet other guests under the cabanas scattered throughout the grounds.
If you want privacy and an environment you can call your own, one of these hotels just might be the right fit.
https://www.palmspringspreferredsmallhotels.com/wp-content/uploads/2022/03/4-Monkey-Tree-Upscale-Modernism-Vibes-Photo-Credits-Monkey-Tree-Inn-002.jpg
421
1030
Kathy Condon
https://www.palmspringspreferredsmallhotels.com/wp-content/uploads/2019/09/PSPSH-Logo-Rev-300x246.png
Kathy Condon
2022-03-13 14:07:10
2022-03-13 14:07:32
Privacy And Tranquility Can Be Yours At A Palm Springs AvantStay Property