By Susan Montgomery
I have often dreamed of living in a lovely hotel for a while.  I can just envision the heavenly experience now — sipping coffee by the pool each morning with a good book, enjoying a delicious breakfast in my own little kitchenette, taking leisurely strolls around the nearby shops, dipping in and out of a refreshing pool during the day, relaxing in the evening with a glass of wine on my own delightful patio as I watch a glorious Palm Springs sunset over the mountains, and then snuggling peacefully each night on a comfy bed with luxurious linens.
It's always good to get away from the day-to-day frenzy of at-home obligations where myriad household and work tasks always beckon. Fortunately, there are quite a few boutique hotels, all part of the Palm Springs Preferred Small Hotels group, that cater to my dream by encouraging long stays (two weeks or more).
Below are some hotels where you could live out this dream. All these hotels offer swimming pools, coffee pots, refrigerators, and kitchenettes, which are essential for long stays. Many offer other amenities such as furnished patios and barbecue grills for guests. Some cater to adults and some even welcome pets.
This historic hotel (opened in the 1930s), caters to adults and offers a Hollywood ambiance and art deco design with recently updated rooms. Since the Wescott is located in the trendy Uptown Design District, lots of shops and restaurants are within easy walking distance. A complimentary breakfast is offered each morning and there is a relaxing cocktail hour each evening around the soothing fresh water pool.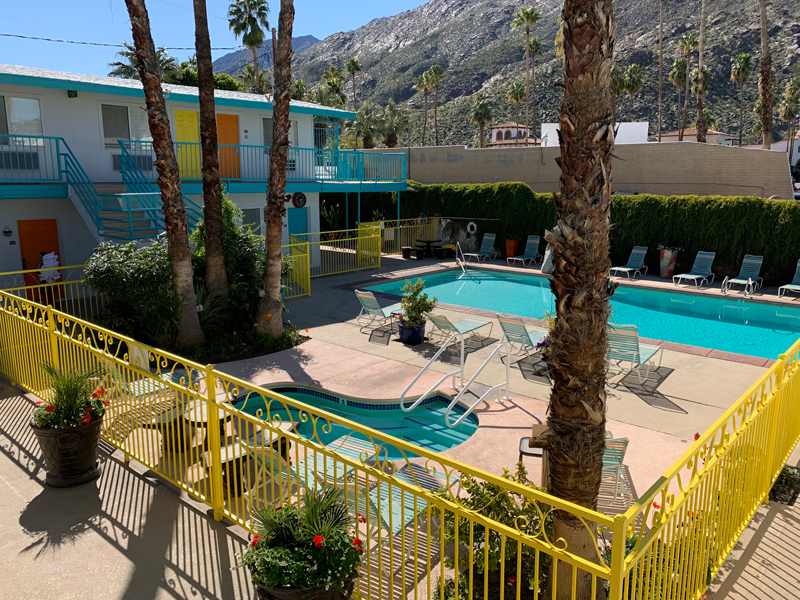 Ideally located near downtown Palm Springs, this charming, nicely furnished hotel is conveniently located right across from the Stein Mart Plaza Shopping Center. This quiet oasis features swaying palm trees and beautiful landscaping, making it a true getaway. Every room features a striking view of the San Jacinto Mountains and everything you need for an extended stay visit, such as flat-screen TVs, microwaves, refrigerators, and coffee makers.
This 32-room, clothing optional, gay men's resort is within easy walking distance from Palm Canyon Drive where there are lots of shops and restaurants. Eight rooms have private patios and there is a beautiful 50-foot diving pool plus a gym, spa, sauna, steam room, and a large park in the back that even has a fun maze. And you can bring your furry friends.
This relaxing getaway is an adults-only property that offers nine different kinds of suites, all but one with king-sized beds and four with private patios. These suites are like modern apartments and several have full kitchens. The courtyard is beautifully landscaped and the inviting saltwater pool is heated. Avance is very private but centrally located, only about a mile from downtown Palm Springs. Views from all the suites are spectacular. Complimentary bicycles are available.
Ideally located at the foot of the San Jacinto Mountains in the historic Tennis Club District, this adults-only, mid-century modern hotel is serene and very private. There is a barbecue grill and ice machine for guests. One and two-bedroom suites have beautiful patios that overlook a lovely flower-filled courtyard with a beautiful pool and spa. Many rooms have complete kitchens and all the linens are luxurious cashmere. This is a serene getaway for those who want a quiet, peaceful retreat.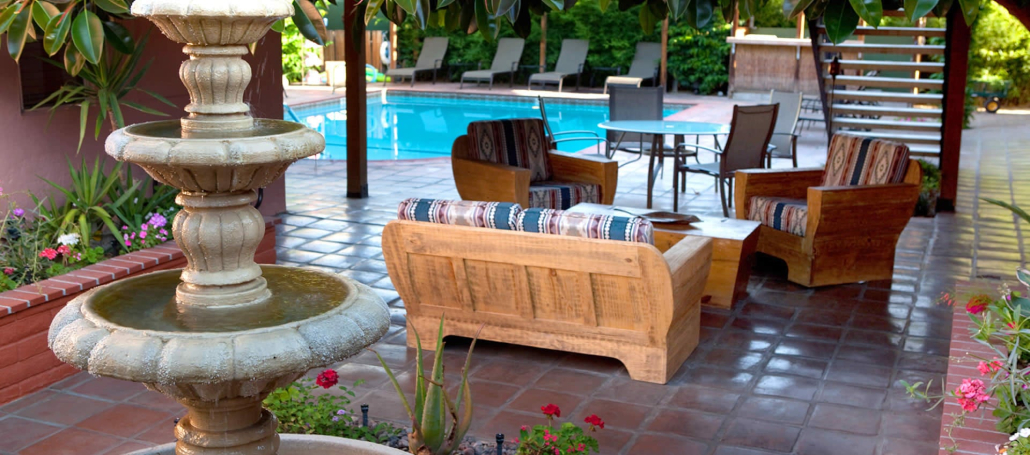 Designed in a classic California mission style, with Spanish touches, this lushly landscaped hotel offers stunning views of the surrounding mountains and 14 beautifully furnished rooms around a glistening pool with refreshing cool misters. There are grills for guests to barbecue and even a private outdoor cigar lounge. This is a romantic getaway with a rustic ambiance. Loyal guests come back here year after year, in part because of the impeccable friendly service.
This charming Spanish Revival hotel exudes romance and is ideally located in the historic Tennis Club District. The grounds are nicely landscaped and highlighted by flowing water features. Each of the seven villas has a full kitchen, bedroom, luxurious bathroom, dining room, and living room. This is a true getaway and perfect for a serene extended stay. No wonder Lucille Ball and Desi Arnaz often stayed here.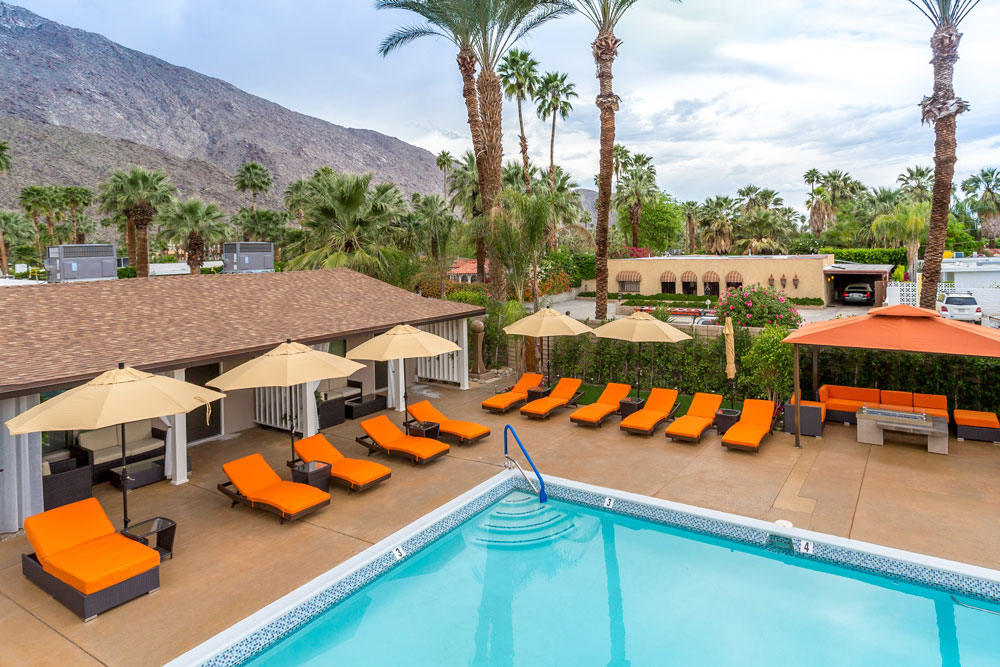 This quiet hotel caters to adults and features eight spacious, modern rooms, each with fully equipped kitchens and two furnished patios. A beautiful salt-water pool is surrounded by lots of lawn chairs for the utmost in relaxation as you listen to the magical sounds of tinkling waterfalls. This "little paradise" is located about a mile from downtown Palm Springs, and there are also some nice restaurants within easy walking distance.
Named after the 60s French rock 'n roll hit by Jacques Dutronic, this historic hotel has been lovingly updated with stylish décor. A mix of one-bedroom suites and studios make this a perfect place for a long stay. Amenities include a massage room, a hot tub, a hammock garden, and a glorious rooftop deck — an ideal home away from home that may even be nicer than home.
Clothing is optional at this peaceful retreat, which caters to single women and couples. The 24 apartment-like suites, with one or two bedrooms, fully equipped kitchens, and living and dining areas, are perfect for long stays. A plus for many guests is that the property is entirely smoke-free. A spacious, enchanting courtyard features a newly refurbished pool, spa, and barbecue area. While the intimate setting is very private, the hotel is only a short walk from downtown Palm Springs.
There are other PSPSH hotels that may meet your needs for extended stays, so check out the PSPSH website. And don't worry about the summer heat during your extended stay in Palm Springs. All these hotels are air-conditioned, of course, and you can dip in and out of a refreshing pool all day.
https://www.palmspringspreferredsmallhotels.com/wp-content/uploads/2021/07/Little-Paradise-o_19hags18bnv01pbviag1gqpp5at.jpg
667
1000
Susan Montgomery
https://www.palmspringspreferredsmallhotels.com/wp-content/uploads/2019/09/PSPSH-Logo-Rev-300x246.png
Susan Montgomery
2021-07-09 09:00:28
2021-07-22 12:54:05
Boutique Hotels Can Be Your Home Away From Home