The Hacienda At Warm Sands Is Fit For A King

Just a few minutes from the thumping beat of the nightlife on Arenas is The Hacienda at Warm Sands, LUXlife magazine's 2020 and 2021 Best LGBTQ Resort in North America. If you didn't know, you wouldn't know — it's discreetly camouflaged by a perfectly manicured privacy hedge standing sentry over the Spanish villa-style artistry that waits inside. Carved into the hedge, a gorgeous wooden gate with lanterns on either side to show you the way.
Inside, a rich tapestry of winding Saltillo tile pathways are surrounded by lush foliage and dotted with surprises along the way: an outdoor fireplace, an in-ground spa, a tranquil water feature, and the two clear blue pools that anchor the 10 suites surrounding them. And if you're impressed with the outside of the property (if you aren't, you're dead inside), the rooms are gonna knock your socks off.
Before we get to that part of the tour, you should meet your hosts: Jim Moje and Maurice Minno. Jim is, as he puts it, "a frustrated architect" with a degree in finance, and Maurice has a master's degree in hotel and restaurant administration from Cornell University. For the past 21 years, they've put all their hopes, dreams, and skills into turning The Hacienda at Warm Sands into the 5-star experience that it is.
The experience begins the moment you book your room — that's when the Hacienda's team begins to prep for your stay. Something special you'd like upon arrival? Would you like the food pantry stocked with specific items? Perhaps you'd like a private chef for a delicious dinner? If you can dream it, the team will do everything within their power to make it happen. 
It gets even better when you're a repeat guest because it's easier to anticipate your needs, and that's what the resort is all about: offering "anticipated but unexpected Hacienda moments" to their guests. And they do it unobtrusively, like your guardian angel. The ratio of staff to guests is one to one with a turnover that's nearly non-existent — even after a pandemic. That's because Hacienda values their staff as much as they do their clientele and made provisions to take care of them while the resort was closed for about six months due to COVID-19. Now that they're back open, every precaution is taken to keep you safe inside their hedges. 
There are five styles of well-appointed suites. The smallest is just under 500 square feet, and the largest around 900 square feet — all with furniture and amenities chosen for functional elegance. Every suite has a kitchenette that is ingeniously disguised to look like an elegant wet bar, a sitting room, and a large luxurious bathroom with so many L'Occitane amenities it'll make your body giddy with anticipation. 
Multiple heads and horizontal water sprays turn each shower into a spa, with large plush towels waiting to dry you quickly once you're done. In your closet, there are two robe options available: a waffle weave for daytime and a heavier-weight robe to provide extra warmth and comfort on cooler evenings by the fire.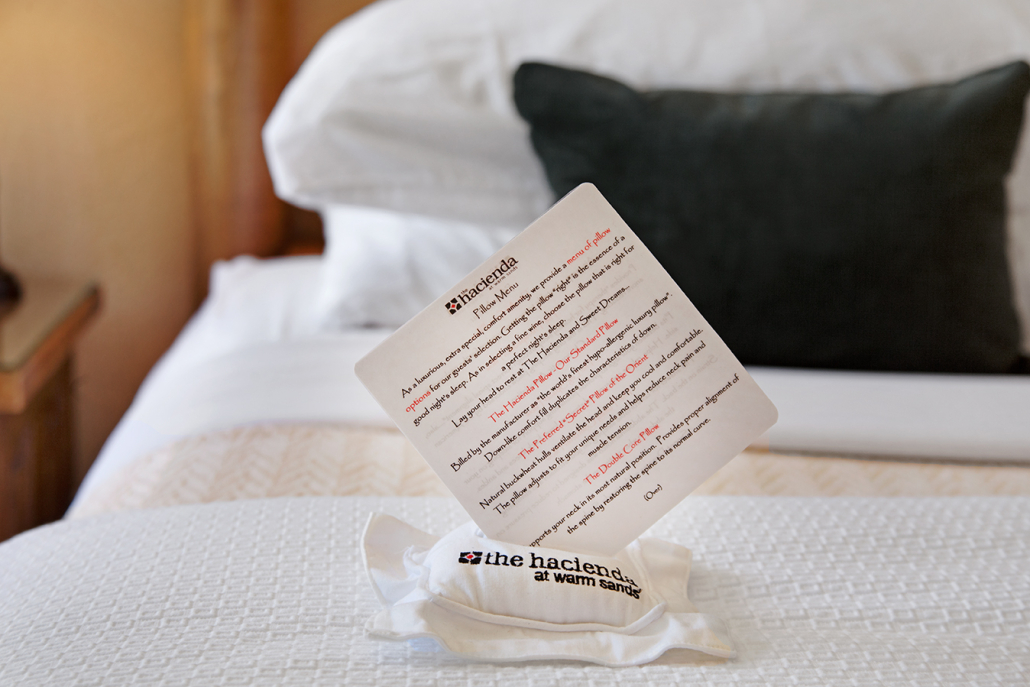 The beds are fit for a king (or queen): thick comfy mattresses dressed in crisp linens with a variety of luxury pillows available from the resort's "Pillow Menu." It's a bit like Goldilocks and the Three Bears — keep trying them until you find one that's just right.
An expanded, seemingly endless continental breakfast and a restaurant-crafted catered lunch of wraps, sandwiches, and salads are served daily, along with your favorite beverage (red or white wine, fresh-brewed iced tea, or lemonade). You can enjoy your meals while languishing in the outdoor spa, by one of the pools, or next to the outdoor fireplace. Above you, only palm trees, breathtaking mountains, and blue skies frame this extraordinary 5-star oasis in Palm Springs.
It's no surprise that no matter where you look, all the reviews of The Hacienda at Warm Sands are five stars. Jim and Maurice have spent 21 years cultivating the best staff and service known to mankind, as well as perfecting a luscious landscape of earth, water, and fire surrounding their spacious and exquisite suites, providing so much worldly comfort and pampering you'll feel like a royal.
https://www.palmspringspreferredsmallhotels.com/wp-content/uploads/2022/01/Grounds-Night-Time-front-pool-2.jpg
899
1348
Kay Kudukis
https://www.palmspringspreferredsmallhotels.com/wp-content/uploads/2019/09/PSPSH-Logo-Rev-300x246.png
Kay Kudukis
2022-01-20 09:27:24
2022-01-20 09:28:27
The Hacienda At Warm Sands Is Fit For A King