Tableside Preparation Highlights Dining at Melvyn's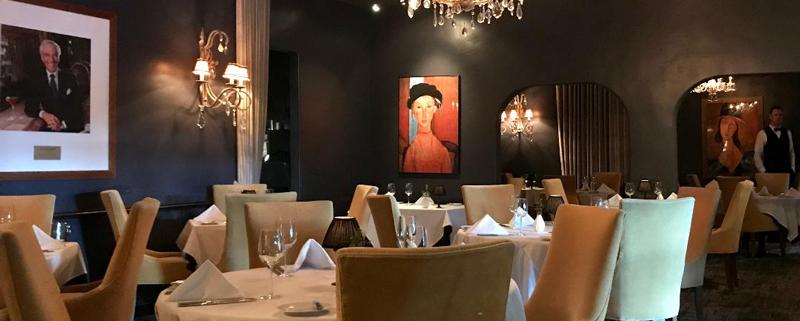 Melvyn's is one of my favorite restaurants in Palm Springs because of its old world ambiance, attentive service, and classic dishes. Dimly lit with white tablecloths and Modigliani paintings enhancing the elegant décor, the setting is intimate, serene, and romantic. The restaurant is located on the lushly landscaped property of the Ingleside Inn, a charming historic boutique hotel which has been around since the 1920s and was a favorite getaway for Hollywood celebrities during the 1950s and 60s.
The stars also relished dining at Melvyn's and sipping cocktails in the adjoining Casablanca lounge where Frank Sinatra, Dean Martin, Ava Gardner, Spencer Tracey, and Sammy Davis Junior were known to croon a few tunes. Palm Springs was a haven for these famous Rat Pack celebrities and many others since Hollywood had a two-hour rule where if you were under a film contract you could only travel two hours away in case you were needed on a set.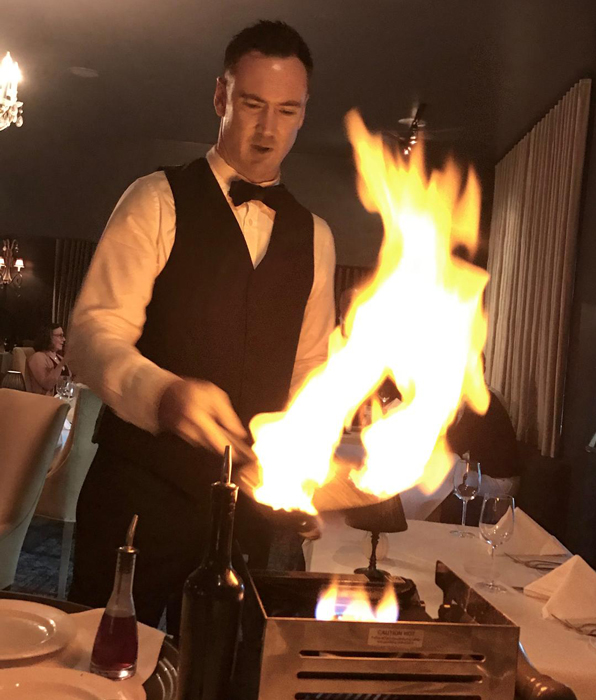 During a recent visit, we focused on Melvyn's iconic dishes prepared tableside. Melvyn's is one of only a few restaurants in California where tableside food preparation still occurs. My dining companion and I had a special appreciation of our dishes after watching them being prepared right at our table by our personable waiter, Peter Hauxwell, who entertained us during his preparation by describing each step.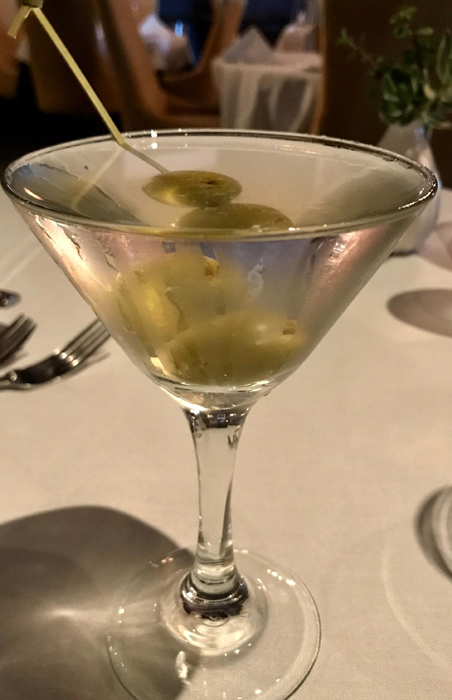 We first ordered icy cold martinis (assuming this is what Frank would do). We enjoyed our cocktails with classic appetizers of Vichyssoise and Escargot, both beautifully prepared traditional dishes. We then embarked on our magical tableside dining experience.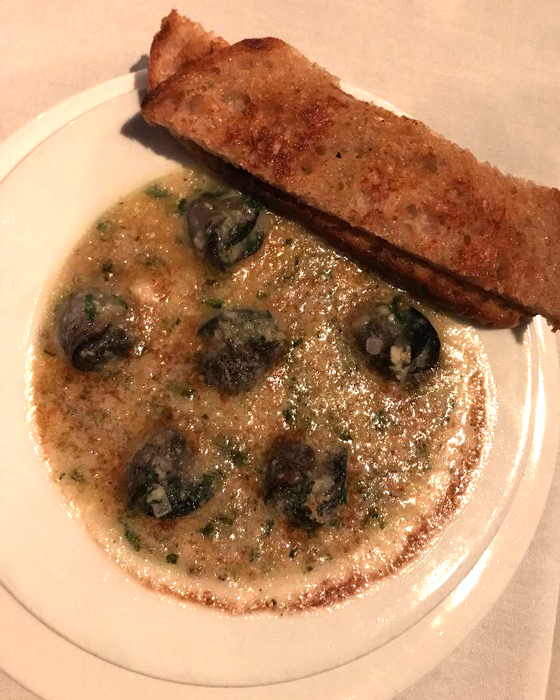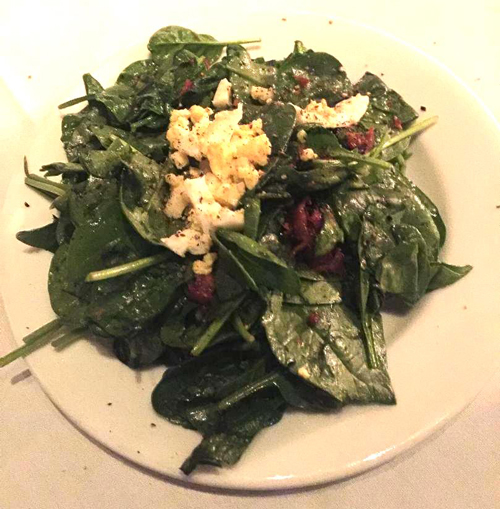 Peter first prepared a delicious Wilted Spinach Salad. He whisked together bacon and Dijon mustard with a house-made vinaigrette. He then added crisp Spinach leaves that wilted in the savory bacon mixture. He topped this savory salad with chopped boiled eggs, drizzled it all with lemon, and voila! — Our salad was ready to savor. The salad was rich, flavorful, and even more delicious than it might have been because we had observed the special preparation.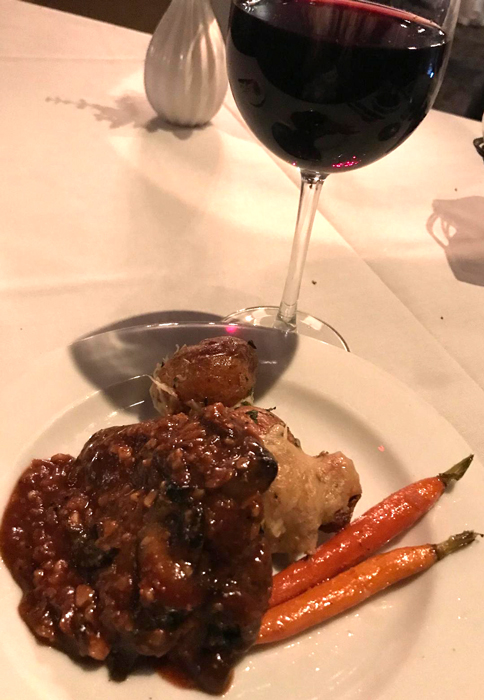 Next was the highlight of our meal, Steak Diane, an ageless dish that was reportedly a favorite of Frank Sinatra's. Peter created an aromatic, cognac, mushroom sauce with shallots and red that briefly and dramatically went up in flames as it was poured over the tender filet medallions (perfectly prepared medium rare per our request). The flames added a lovely smoky taste to the scrumptious filets. To say they melted in our mouths is an understatement.
We had a hard time deciding between Cherries Jubilee or Bananas Foster for dessert, both flambé dishes. We opted for bananas and were not disappointed. Peter first sautéed the bananas and then mixed them with a rich sauce of brown sugar, dark rum, and various spices. The rum produced glorious flames and the dish was ready to serve atop vanilla ice cream, creating a decadent, sweet dish. Peter observed that he felt this luscious dish had aromas of children's laughter and we couldn't disagree. We certainly found ourselves exclaiming delightedly during every flaming display right at our table.
After dinner is the perfect time to adjourn to the Casablanca piano bar where you can enjoy live music from local musicians every night and a special jam session each Sunday. You can even dance off some of those calories you just consumed. The vibe takes you right back to Hollywood's heyday.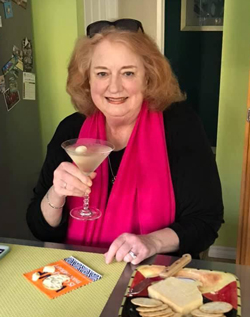 Susan Montgomery is a travel, food and wine writer who has a special affection for Palm Springs, which is about an hour from her Southern California home. She is on the Board of Directors of the International Food Wine & Travel Writers Association and in the last several years, she has published more than 300 articles on her own website and in other publications. Website link: http://life-uncorked.com.
https://www.palmspringspreferredsmallhotels.com/wp-content/uploads/2019/10/Interior-Melvyns-web.jpg
673
800
Elizabeth G. Arcia
https://www.palmspringspreferredsmallhotels.com/wp-content/uploads/2019/09/PSPSH-Logo-Rev-300x246.png
Elizabeth G. Arcia
2019-10-07 00:29:53
2019-11-07 17:05:43
Tableside Preparation Highlights Dining at Melvyn's