The Avanti Hotel: Privacy for you — and your pets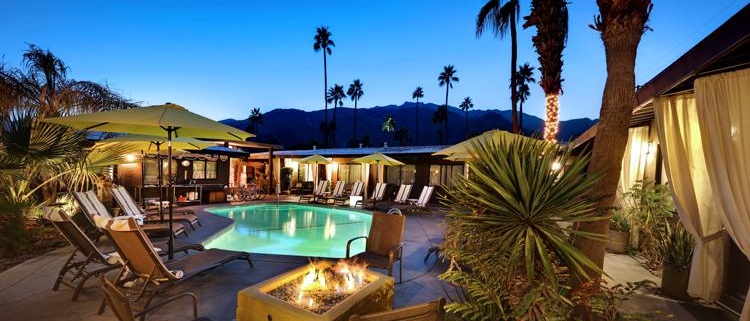 At the Avanti Hotel, the guest experience is of utmost importance. Owner Jim Rutledge ensures that he knows where visitors are traveling from and what they enjoy doing, in order to offer recommendations and keep the hotel safe and secure.
Owner Jim Rutledge loves dogs, and goes out of his way to make their stay comfortable — at check in, they receive a bag with a pool towel, sheet for the bed, water bowl, and snacks.
"We very much enjoy having them," Jim said, adding that hundreds of dogs have stayed at the hotel since its opening. These special guests can be spotted on the Instagram page Dogs of Avanti.
Of course, their owners are also treated well at the Avanti, a 10-room mid-century modern hotel that was built in 1954. There are no resort fees, and guests can take complimentary cruisers for a spin and relax at happy hour and an extended continental breakfast. Because it's such an intimate hotel, Jim gets to know all of his guests, and he estimates that nearly 50 percent of his patrons are repeats.
"We like to get to know our guests, and where they're from and what they like to do," he said. "We get to meet people from all around the world who come here."
Jim and his brother-in-law purchased the property in the early 2010s, after both took buy outs from their corporate jobs. They started from scratch, even coming up with a new name, and Jim, originally from Seattle, was excited to be in a town he was already familiar with.
"I've loved Palm Springs and had been coming here for years," he said.
For guests who enjoy meeting new people, the pool is a natural gathering place, but there are also hideaways for those who want to have some solo time.
"The rooms have private patios, and you can hang out there and read a book," Jim said.
One of the Avanti's biggest draws is its security. There is a locked gate, and Jim has a video doorbell, so he can see who is coming and going and he doesn't have to let people in who don't belong.
"I know who is in my hotel," he said. "We have repeat guests, and single women, who know about the safety factor and they love it. They know that when they come in, the door is locked behind them and no one can come in. I know all of the guests, and people who stay here for two or more nights get to know the other guests, and they all recognize each other."
https://www.palmspringspreferredsmallhotels.com/wp-content/uploads/2019/10/Avanti_Picture-web.jpg
446
750
Elizabeth G. Arcia
https://www.palmspringspreferredsmallhotels.com/wp-content/uploads/2019/09/PSPSH-Logo-Rev-300x246.png
Elizabeth G. Arcia
2019-10-23 00:51:13
2019-11-07 17:05:06
The Avanti Hotel: Privacy for you — and your pets