The Willows Historic Palm Springs Doubles in Size with Addition of 9-Room Bishop House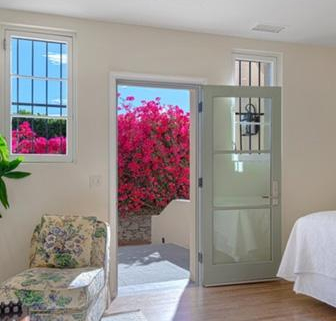 By Elizabeth Borsting
The eight-room Willows Historic Palm Springs Inn, a luxury destination built in 1925 as a private residence and operating as the city's only Four-Diamond hideaway since 1996, has more than doubled in size with the opening of The Bishop House last week. The historic compound now has a combined total of 17 rooms and suites divided among a pair of historic estates with each room boasting its own floorplan and design.
Just open to guests, the Bishop House has been completely renovated from top to bottom returning the property to its 1920s splendor. There are seven rooms in the main building and two rooms in a separate casita including one that is fully accessible.
Both Estates, Built in 1925 and Sharing an Almost Identical Floorplan, Have Been Reunited for the First Time in Decades
The two properties are joined together via footpaths with only registered guests permitted behind the compound's gates. Guests are free to roam between the two houses to enjoy the public spaces, such as the great rooms and sweeping verandahs, as well as the terraced grounds. All guests enjoy a daily deluxe, chef-driven breakfast enjoyed in The Willows dining room with views of the inn's 50-foot waterfall. In the evening, wine and hors d'oeuvres are served at either estate where guests can sip or sup on the sweeping terraces or in one of the public rooms. Other complimentary amenities include en suite snacks, poolside beverages, complimentary parking and charging stations, 24-hour swimming pool privileges and more.
History of the Properties
Both The Mead and The Bishop Houses have fascinating histories that are intertwined with that of the City of Palm Springs itself. Their story begins in 1924 when William J. Dodd, a Los Angeles architect who created iconic dwellings for the likes of Charlie Chaplin and Cecil B. De Mille, was commissioned to design Spanish Revival-style mansions for best friends and prominent Angelenos, William and Nella Mead and Roland and Dorothy Bishop. The couples selected a choice spot where the willows grew at the foot of the mountain. William Mead was a prominent banker and philanthropist who played an instrumental role in the Owens Valley Aqueduct project helping to transform Los Angeles from a dusty outpost to a major metropolis. Roland Bishop was a founder and head of Bishop & Co., the region's premier confectioner and baked goods manufacturer. He sold the company in 1930 to the National Biscuit Company –better known as Nabisco.
Dodd arranged the two villas to complement the surrounding terrain and sloping hillside anchoring both structures to the desert floor and mountainous backdrop. Dodd deliberately designed both houses so that they shared similarities of style—a pair of grand vaulted entrance terraces and a great room for gathering–but he also ensured that they had their own architectural identities. Once the homes were complete in 1925, the two couples made the pilgrimage from Los Angeles to Palm Springs as often as possible.
As the years passed new occupants came and went, including Marion Davies—silent screen star, tycoon mistress and astute businesswoman—who took up residency at the Mead house in the early 1960s and is rumored to have transformed the kitchen into something more useful – a bar. Her sister Rose Douras occupied he Bishop house during this period and often entertained her "daughter" Patricia Van Cleve and her husband, actor Arthur Lake better known as Dagwood of "Blondie" fame. Patricia, who was living in nearby Indian Wells when she died in 1993, was actually the love child of Marion and her longtime paramour William Randolph Hearst, a fact she confirmed on her deathbed.
The original Gladding McBean-tiled fountain of the Bishop house has been restored to working order and graces an outdoor patio. While Gladding McBean may not be a household name today, the company was once the go-to place for ornate and decorative tile during the 1920s. It company also created The Franciscan Pottery line of dinnerware named for the friars who founded the California Missions. Its Franciscan Ware patterns—Desert Rose, Franciscan Apple and Franciscan Ivy—are sought after today by modern-day collectors.
Hotel Amenities
The collection of rooms and suites at The Bishop House feature king-size beds, plush linens and hand-selected furniture reminiscent of the era coupled with modern amenities such as high-speed Internet, individual climate control, smart TVs, USB charging stations and plush robes for lounging.
Nightly rates start at The Willows Historic Palm Springs Inn and The Bishop House start at $375 and include a chef-driven, deluxe breakfast; evening wine and hors d'oeuvres; in-room welcome snacks; poolside beverages; parking and electric charging stations; and guest-only access – no resort fees. For reservations and information, call 800.966.9597 or visit online
Media Contact for the Willows Historic Palm Springs:
Elizabeth Borsting
T. 562.856.9292
E. elizabeth@BorstingPR.com
https://www.palmspringspreferredsmallhotels.com/wp-content/uploads/2019/09/Bishop-House.jpg
399
336
Elizabeth G. Arcia
https://www.palmspringspreferredsmallhotels.com/wp-content/uploads/2019/09/PSPSH-Logo-Rev-300x246.png
Elizabeth G. Arcia
2019-07-03 18:43:34
2019-11-07 17:11:34
The Willows Historic Palm Springs Doubles in Size with Addition of 9-Room Bishop House