We checked into the Three Fifty Hotel, a boutique hotel designed by self-taught mid-century architect Herbert W. Burns in the Historic Tennis Club Neighborhood. Predominantly white with chartreuse and black accents, our stylish room came with a refrigerator, coffeemaker, and other amenities to make our stay comfortable. We fell back onto the large bed with a happy sigh. I set up my computer at the white Saarinen-style tulip table with a floor to ceiling view of the pool (with the mountains in the background) and wished my home office had a similar vista. Willing ourselves to leave our relaxing room, we set out on foot.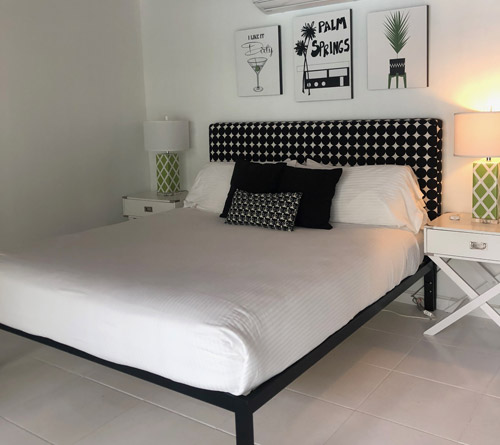 To our delight, we noticed a number of other mid-century hotel gems in the neighborhood. The Del Marcos Hotel, for example, is a 17-room stone-and-glass marvel that was famed Palm Springs architect William Cody's first major valley commission in 1947. Bright orange lounge chairs line the rectangular saltwater pool — they make a perfect spot to enjoy the daily, complimentary happy hour. After a few hours lounging by the pool, enjoy an easy walk to a neighboring restaurant for lunch or dinner.

Nearby, the Orbit In's luxurious rooms feature period-appropriate furnishings like Heywood-Wakefield, and include record players and a collection of vinyl for your retro listening pleasure. Here, too, rooms wrap around a central pool so that all occupants enjoy the refreshing view. Because that California sunshine can really heat up a pool, they use a "chiller" to keep the water cool and comfortable. Breakfast and happy hour are served at the Boomerang bar poolside.
All of the hotels in the Tennis Club district are mere steps away from Palm Canyon Drive—Palm Springs' main drag that holds a welcoming collection of shops, cafés, galleries, boutiques, and restaurants.
Later in our trip, we expanded our sightseeing to check out the 16-room Monkey Tree Hotel. Recommended by friends, this stylish hotel was designed by celebrated architect Albert Frey in 1960. With bright-yellow umbrellas, an expansive courtyard, and blue Salterini chairs and tables in front of each room, this hotel encourages outdoor relaxation in a colorful atmosphere. In addition to the large saltwater swimming pool, guests can also take advantage of the hot tub followed by a cold plunge for the brave.