Welcome to Palm Springs, where the sun shines 360 days of the year. We're fun, fashionable and Instagram ready, and hoo boy do I have a lot to share. And thank the Stars (Walk of Stars), a lot of wonderful friends helped me with this particular blog. So, big shout outs to Francesca Amari, one of our finest vocalists in the valley; and Nick Singleton, Desert War Veteran, and the social media man who never misses an event.
We've got a bit of walking ahead, and it's okay to bring the dog. But make sure she's wearing shoes, and you should put on some comfy ones, too. Don't forget to apply sunscreen and treat yourself to an umbrella. It covers those bare arms and shoulders better than a hat. You can get one at Destination PSP, one of the best places to get Palm Springs swag and after you browse (and you will) we'll get to Instagramming.
Murals & Art Installations:
We've got a lot of murals in Palm Springs. Some are easy to get to, like the Greetings photo, but some – like the ones next to it in the pit with The Babies by David Cerney – are not. Not because they're difficult to find but because no one seems to know if you're allowed in the sandbox yet. After calling four places, I finally got an answer: you're not. Yet. BUT you can see all of the installations from above and there are more in that general vicinity between the Art Museum and the Kimpton Plaza (KP).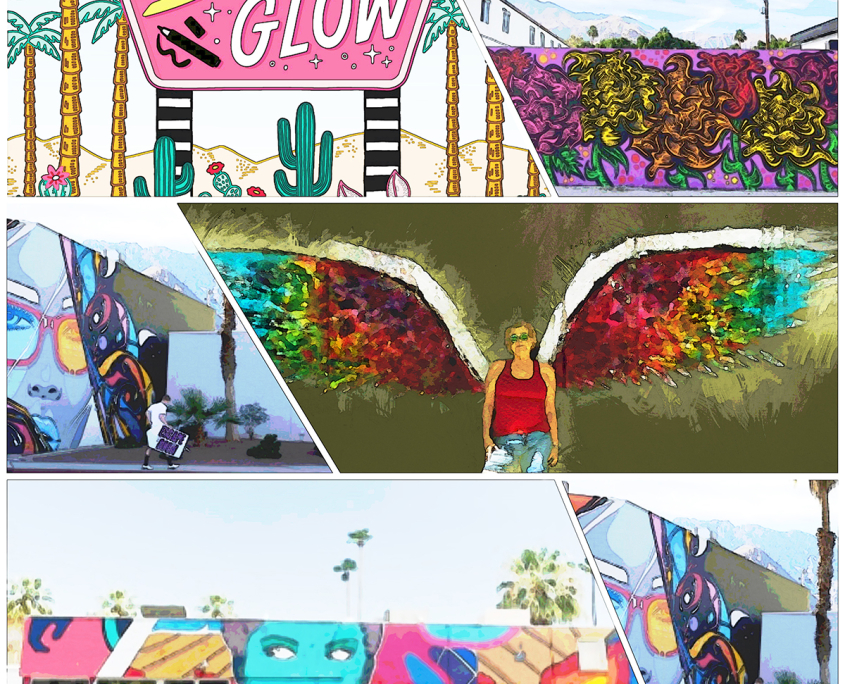 In the Plaza, you can find the Angel Wings, and the PS I *Heart* U installation; they're just around the corner from each other. The Desert Glow mural can be found on Palm Canyon Drive in the strip of retail stores attached to the KC Mall.
This is my favorite piece of art in Palm Springs. Created by artist Julian Voss-Andreas, Isabelle is different from every view, and with every drop of sunlight, or moonlight. From some angles, she seems to disappear completely.
Behind the Plaza, is a plethora of art. Let's start a little north of the Plaza, across from Stout Burgers and Beer and Haus of Poke on the corner of Museum Way and Belardo. It's called Graffiti Park, and it is teeming with street art.
On the other side of the Sandbox (where the babies are) is a brand new installation: Gonzalo Librija's History of Suspended Time. Presented in the lot across from Palm Springs Art Museum's main campus, it will remain on-site for a year. In this piece, a car appears to defy gravity and time as if hanging suspended over a pool of liquid approximately 40-feet in diameter.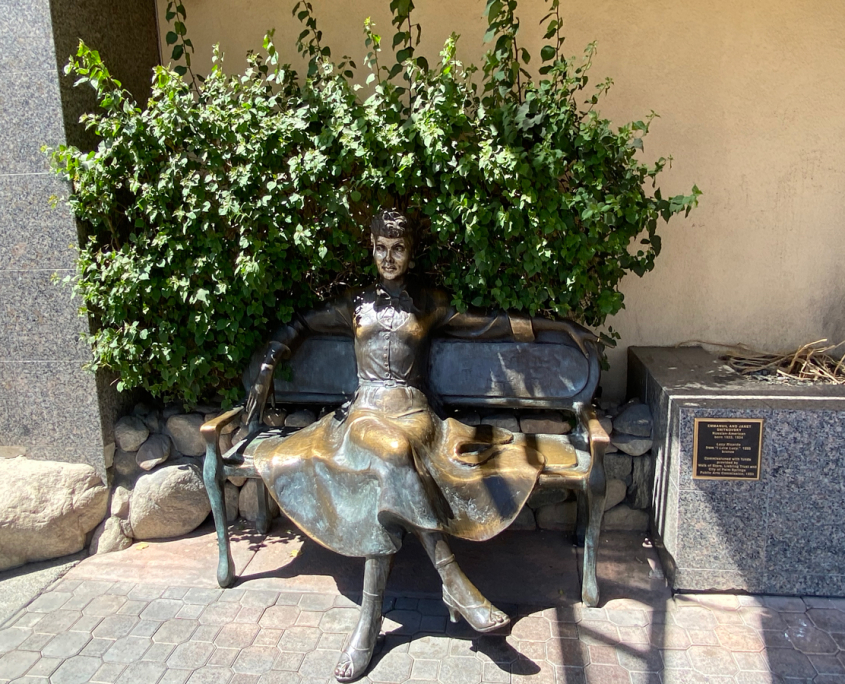 Palm Springs takes pride in their storied history, and Lucille Ball called it her home away from Hollywood for years. She can be found on the northeast corner of Palm Canyon and Tacquitz. Her statue looks a little sad. Stop by and give her some Insta-love.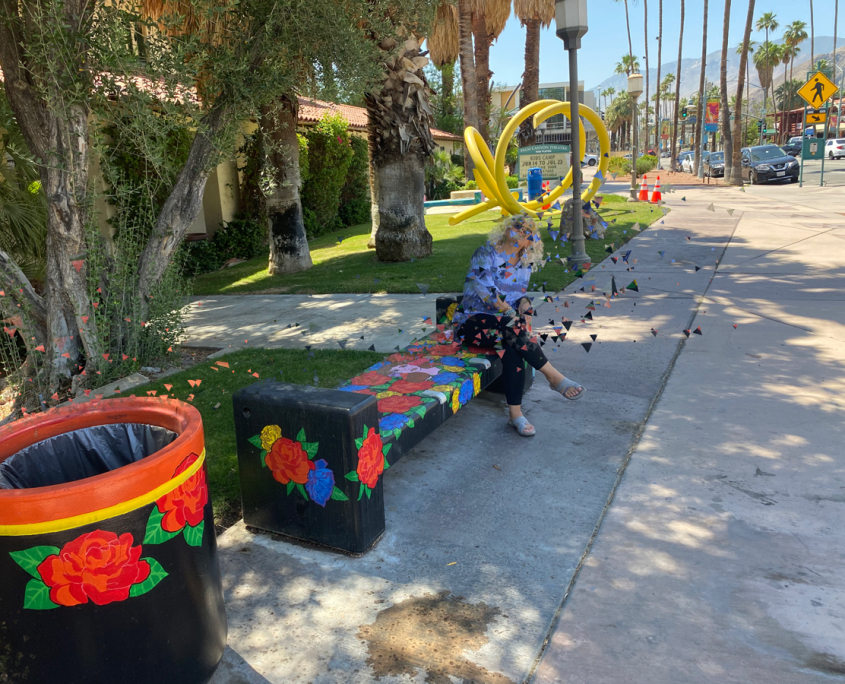 Scattered throughout the valley is a series of more than 50 benches funded by the Palm Springs Public Arts Commission. The previous link will show you where they all are, and this article, by my colleague, Kathy Condon, tells you all about them. Also, keep your eyes peeled for the new art installations that are going up all over town to beautify our electric boxes and trash cans.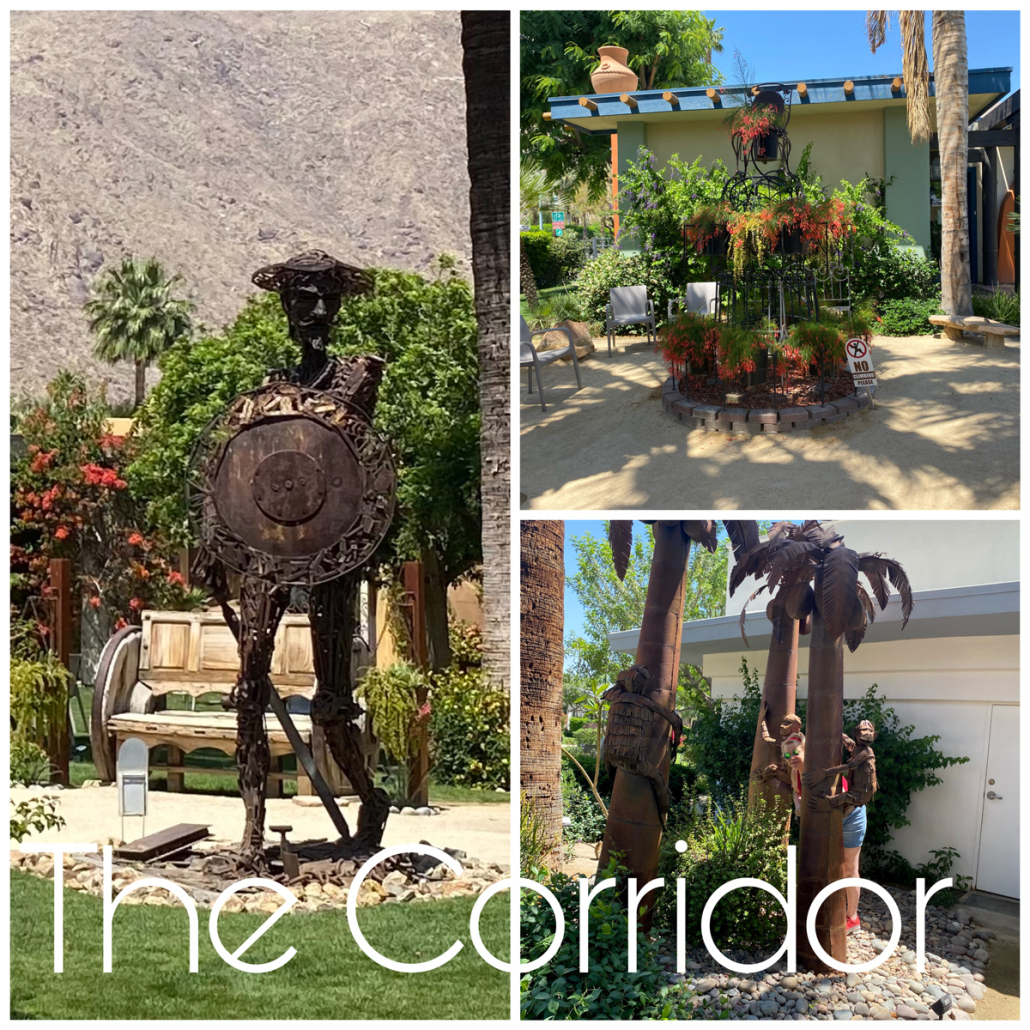 I've lived here for seven years now, and I'd never been to The Corridor. Boy, was I missing out. I knew the shops were there, but didn't realize through their actual corridor there is a "secret garden" with whimsical art installations. It's beautiful. Truly. And you can enjoy a coffee and then browse the shops.
At the north end, just south of the iconic Toucans, is a new place called Boozehounds. If you've been walking with your pup, or even if you're not, stop in for a bite and grab a few snaps while you're at it. Be forewarned, it's a bit of a hike in distance, not topography.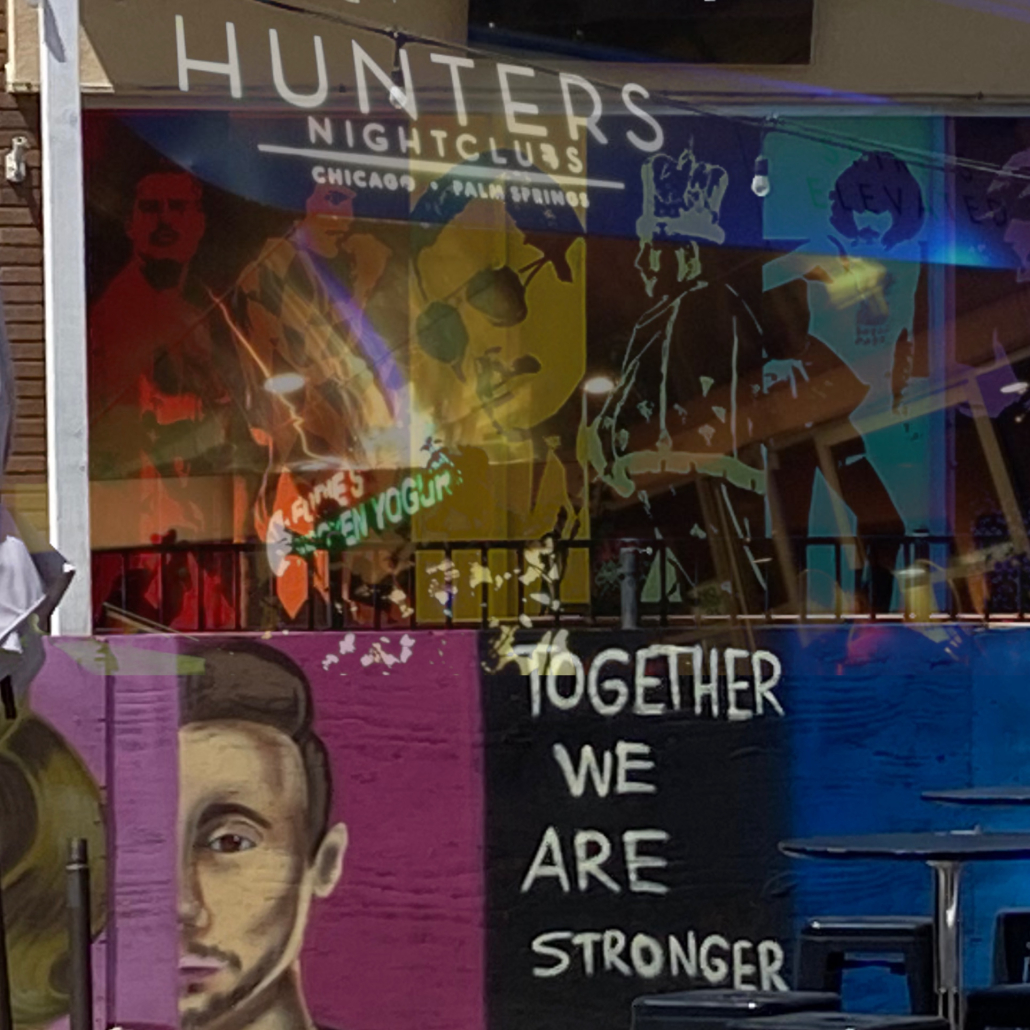 Time to head back south, and a cocktail is likely in order. Stop into V Wine Lounge and take a photo with the umbrella, and have a nice glass of wine or try Hunters and take a photo with their never-ending mural, and pull up a seat while I spill some tea, and tell you about the chair.
Forever Marilyn, created by Seward Johnson, is a representation of one of the most famous images of Monroe, taken from Billy Wilder's film The Seven Year Itch. She was here for a few years, but left in 2014, and now she's back! However, there's quite a bit of furor over her location.
The Palm Springs Art Museum is unhappy that when visitors leave their museum they've got a direct eyeshot of her…up-skirt. There is a faction in Palm Springs that is talking #metoo, Some don't consider it art, and others want it moved where it's supposed to be, in the park next to Museum Way that's still being built. There is a pedestal where she is supposed to go, and someone, I have no idea who, put an empty chair on the pedestal.
For sure, she's coming, But, in the meantime, sit in the chair and Instagram away.
Don't want to overload ya'll (why, yes, I do have some southern roots) with Insta-ops, so we'll get to those when you come back. And, you know, you will. #ILOVEPS
As always, please shop and stay at locally-owned businesses. And if you go to any of our hotels or enjoy our recommendations, please be sure to tag us with your photos on IG, or @palmspringspreferredsmallhotels (yeah, it's a lot to type, but we appreciate it!)
https://www.palmspringspreferredsmallhotels.com/wp-content/uploads/2021/05/0001-June-Instagram-Post-Greetings.jpg
900
1200
Kay Kudukis
https://www.palmspringspreferredsmallhotels.com/wp-content/uploads/2019/09/PSPSH-Logo-Rev-300x246.png
Kay Kudukis
2021-05-28 09:00:34
2021-06-07 16:40:34
PS: Fun, Fashionable and Instagram Ready